community theater
community theater
/kəmjˈuːnɪɾi θˈiəɾɚ/
noun
the activity of acting in or producing a play in a theater as a hobby and not a profession
a line that is recited in a speech or performance without prior preparation
comedy of manners
comedy of manners
/kˈɑːmədi ʌv mˈænɚz/
noun
a comic play, movie, book, etc. that portrays the behaviors of a particular social class, satirizing them
a technique or process of selecting, editing and pasting separate footage in order to create a motion picture
the first public screening or performance of a movie or play
a play, story, etc. that involves exciting events and is filled with exaggerated emotions
a musical or dramatic performance that takes place in daytime, especially in the afternoon
the time after a play or show has just ended when the performers come to the stage to receive the applause of the audience
/ˈdɹæməˌtaɪz/, /ˈdɹɑməˌtaɪz/
verb
to make a movie or write a play based on a book or event
translated words projected above or next to the stage on a screen in an opera or play
a speech that a character in a dramatic play gives in the form of a monologue as a series of inner reflections spoken out loud
stage direction
stage direction
/stˈeɪdʒ dɚɹˈɛkʃən/
noun
a text in the script of a play, giving an instruction regarding the movement, position, etc. of actors
/ɹiˈvaɪvəɫ/, /ɹɪˈvaɪvəɫ/
noun
a new performance of something old that has not been performed for a long time, such as a play
Click to see examples
Examples
Then, a revival of science in Europe restrained the imaginations of geographers.
assist (somebody acting or reciting) by suggesting the next words of something forgotten or imperfectly learned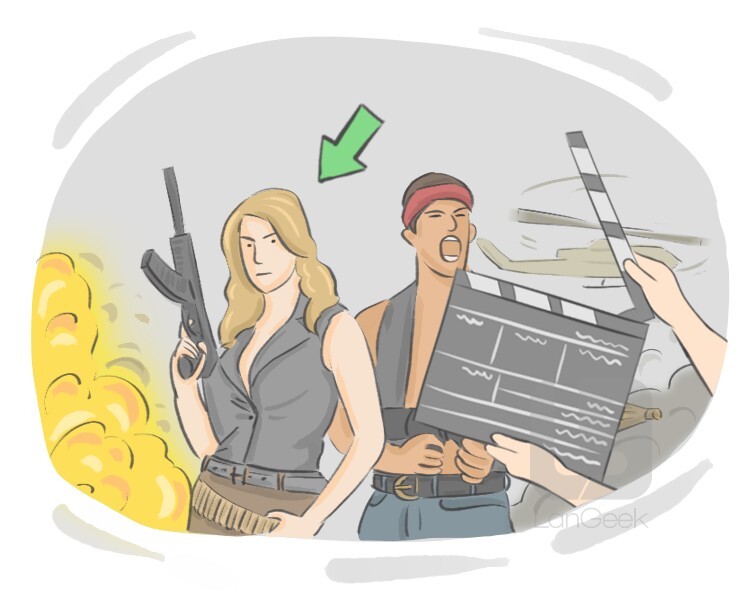 to act a role in a motion picture or perform a play on stage
interpretation
interpretation
/ˌɪnˌtɝpɹɪˈteɪʃən/
noun
a representation that an actor or a performer gives of an artistic or musical piece that shows their understanding and feeling toward it
to act a role in an exaggerated way that is not natural
to assign the roles of a play, motion picture, etc. to unsuitable actors
a preparatory session during which actors read the words of a play before beginning to practice it on the stage
to produce or present a play, a show, etc.
/ɹiˈhɝsəɫ/, /ɹɪˈhɝsəɫ/
noun
a session of practice in which performers prepare themselves for a public performance of a concert, play, etc.
Click to see examples
Examples
Carol left the rehearsal room with Alan, one of the first violinists. '
Carol is never late for rehearsals, and she knows that these concerts are important for us.
At nine o'clock the next morning the conductor was ready to begin the rehearsal.
to play the role of a character in a movie, play, etc.
a movie, TV program, etc. that is based on a book or play
someone who is in charge of the artistic features, such as props and costumes of a movie or play
someone who writes plays for the TV, radio, or theater
an upper floor in a theater or cinema where there are seats for the audience
Click to see examples
Examples
Anna is playing her guitar on the balcony of her new apartment.
'Let's have our coffee on the balcony.'
'Perhaps she's on her balcony.'
situated or taking place in the area of a stage not visible to the audience
a set of scenes in a motion picture, novel, etc. that could be regarded independently and are very elaborate or complex
a thing that achieves great commercial success, particularly a movie, book, or other product
cinematography
cinematography
/ˌsɪnɪməˈtɑɡɹəfi/
noun
the art and methods of film-making, especially the photographic aspect and camerawork
costume drama
costume drama
/kˈɔstuːm dɹˈɑːmə/
noun
a motion picture or theatrical production with a historical setting in which the actors wear the costume appropriate to that time period
(used plural) a list of names at the beginning or at the end of a TV program or movie acknowledging the contributors in making that program
to fictionalize
to fictionalize
/ˈfɪkʃənəˌɫaɪz/
verb
make into fiction
a type of movie involving crime including shadowy footage and dark background music that depicted cynical characters caught in dangerous situations
an imaginary barrier that separates the mise en scene and the fictional characters from the audience, especially in a theatrical performance
a short pause between parts of a play, movie, etc.
a short performance that is presented between two longer pieces
a concluding speech at the end of a play that is addressed directly to the audience, often in verse
an actor who practices the lines of another actor in order to replace them if necessary
a movie that is intended to be broadcast on TV, rather than being projected on the screen
great
you-have-reviewed-all-the-words-in-this-lesson