a strong will to achieve something
the state or quality of being capable of achieving success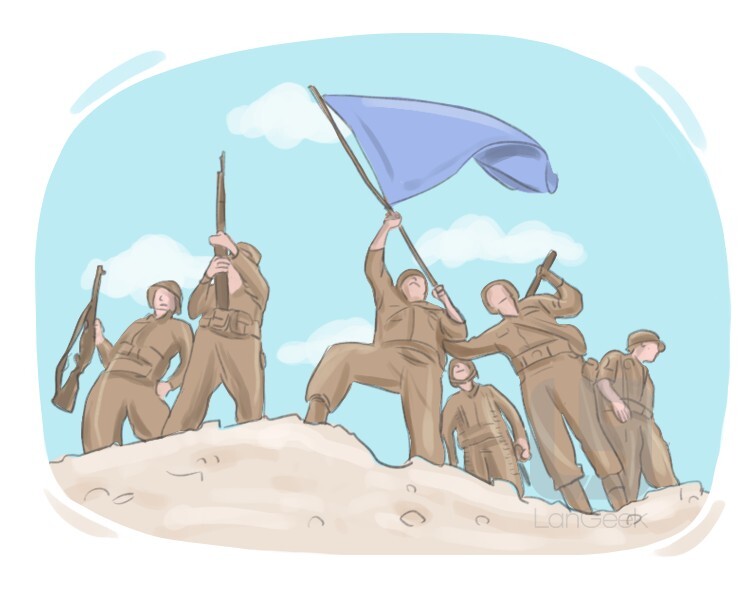 a great victory, success, or achievement gained through struggle
a history of someone's or something's recognized accomplishments that can often be used for the purpose of making judgment
the working together of two things (muscles or drugs for example) to produce an effect greater than the sum of their individual effects
an unbroken series of events
stepping stone
stepping stone
/stˈɛpɪŋ stˈoʊn/
noun
any means of advancement that helps one to make progress towards achieving something
a strong will to have or do something of value
the state of being successful, particularly by earning a lot of money
the likelihood or possibility of something becoming successful in the future
the period of greatest prosperity or productivity
a part of something that is considered as the most prominent or successful
the quality of having determination to continue doing or believing something in spite of any opposition or hardships
the quality of persistently trying in spite of difficulties
infallibility
infallibility
/ˌɪnˌfæɫɪˈbɪɫɪti/
noun
the quality of never being wrong or making mistakes
something that is made real or concrete
an early achievement paves the way for future progress
in a way that is possible or doable
/ˈɛnɝˌpɹaɪz/, /ˈɛntɝˌpɹaɪz/
noun
an enormous project that is part of a for-profit business
to believe that someone deserves the credit for something
to bounce back
to bounce back
/bˈaʊns bˈæk/
verb
to regain health after an illness or become successful again after facing difficulties
an important discovery or development that helps improve a situation or answer a problem
to be successful in achieving a particular end or doing something difficult
to manage to establish a career, reputation, etc. for oneself through hard work and dedication
Click to see examples
Examples
They carve homes called "dug-outs"—into the hills overlooking the town.
Why then did they carve them in the first place?
and apparently he liked to use it for carving trees
to come through
to come through
/kˈʌm θɹˈuː/
verb
to emerge triumphant in attaining a particular goal
producing or capable of producing an intended result or having a striking effect
praised and well-known because of prior achievements
to measure up
to measure up
/mˈɛʒɚɹ ˈʌp/
verb
to meet the qualifications or standards that are required or expected for doing or achieving something
(of a time) ideal for achieving a particular purpose or reaching success
to overachieve
to overachieve
/ˌoʊvɚɹɐtʃˈiːv/
verb
to achieve success more than expected
the quality of being realistic and practical rather than ideal or theoretical
to attempt to achieve something, particularly a difficult goal
to make great efforts to achieve something
Click to see examples
Examples
but you know, something I strive for.
to overcome something or deal with it successfully
to develop or grow well or continue to be successful
Click to see examples
Examples
He's thriving, he's really happy doing really well.
showing determination and ambition to achieve one's goals
a period during which someone or something reaches their most successful point
the process of helping something grow, develop, or become more successful
great
you-have-reviewed-all-the-words-in-this-lesson