step 1
Review
step 2
Flashcard
step 3
Spelling
step 4
Quiz
located in a place where it can be seen first, in a newspaper or on a website
a piece of advertizement in a newspaper or magazine, designed to seem like an objective editorial
an earlier copy of a magazine or a newspaper
‌a newspaper headline written in large letters, located across the top of the first page
located in the middle or bottom of a newspaper or a webpage, where it cannot be seen first
a newspaper that is published on large pieces of paper and deals with serious matters
a line that gives the writer's name, at the end or beginning of a newspaper or magazine piece
a humorous drawing usually published in a newspaper or magazine, intended as satire or a form of criticism
someone who is known by a lot of people, especially in entertainment business
the middle pages of a magazine or newspaper that face each other
the number of copies of a newspaper or magazine that are regularly sold
a type of short advertizement in a newspaper, put along other ads of the same subject
a story or article cut from a newspaper or magazine to be kept
a unit of measurement for advertising space
a story or article cut from a newspaper or magazine to be kept
a type of newspaper that is published everyday except Sunday
a particular issue of a newspaper
a statement, especially by someone famous, as a form of advertisement claiming they are approved of a product
a type of newspaper that is published after midday
the first page of a newspaper in which the most significant news pieces are covered
‌appearing on the front page of a newspaper, where the most important news is printed
an official journal or newspaper that a particular organization publishes
a line of words printed largely at the top of an article on a newspaper or magazine
a type of newspaper or magazine concerning a specific topic or occupation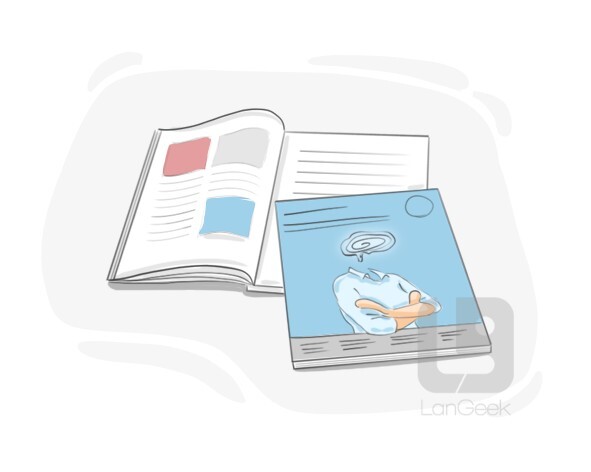 a periodic publication or a large thin book with a paper cover that contains news stories, articles, photographs, etc., usually on a particular topic, sold weekly or monthly
the name of the magazine or newspaper, printed at the top of the first page in a unique design
(disapproving) a person, newspaper or magazine that represents another person, a government, etc.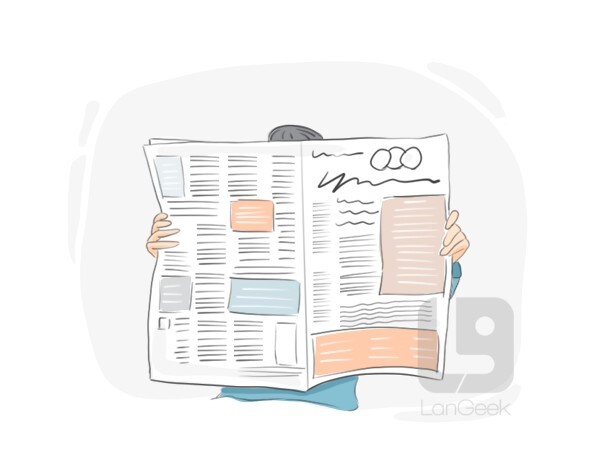 a printed publication or a set of large folded sheets of printed paper that contain news, articles, ads, etc., usually issued daily or weekly
a small and simple form of newspaper with only few pages
a brief advertisement or announcement that is published in a newspaper, magazine, etc.
a piece in a newspaper that discusses a person's achievements in life just after they die
an article that has been separately printed, but was originally published as a piece in a magazine or newspaper
a section in the newspaper that contains personal opinions about the news and feature articles, opposite the editorial page
a letter of protest published to be read by everyone, but addressed to a particular individual or group
a newspaper, periodical, etc. published by a particular special interest group to promote their views
newspapers and journalists who are in the business of gathering and covering news
a story or article cut from a newspaper or magazine to be kept
a part of a magazine, newspaper, etc. that can be taken out easily and kept separately
a newspaper of low quality
a newspaper or magazine that mostly contains stories about the bad behavior and private lives of the celebrities
extra textual material usually in form of a colored magazine that is sold with a newspaper
a newspaper that is published in half-sized sheets, featuring less serious matters, such as the private lives of the celebrities, and a lot of pictures
a small advertisement published in a newspaper or website, expressing requirements of a person or company
a newspaper or periodical that is published once a week
Great!
You've reviewed all the words in this category!