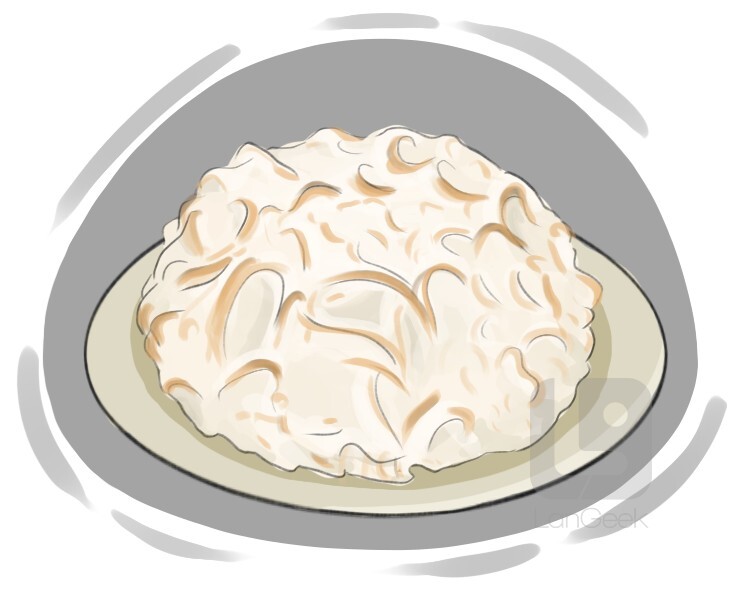 a dessert made with sponge cake, ice cream and meringue that is briefly baked in an oven to be browned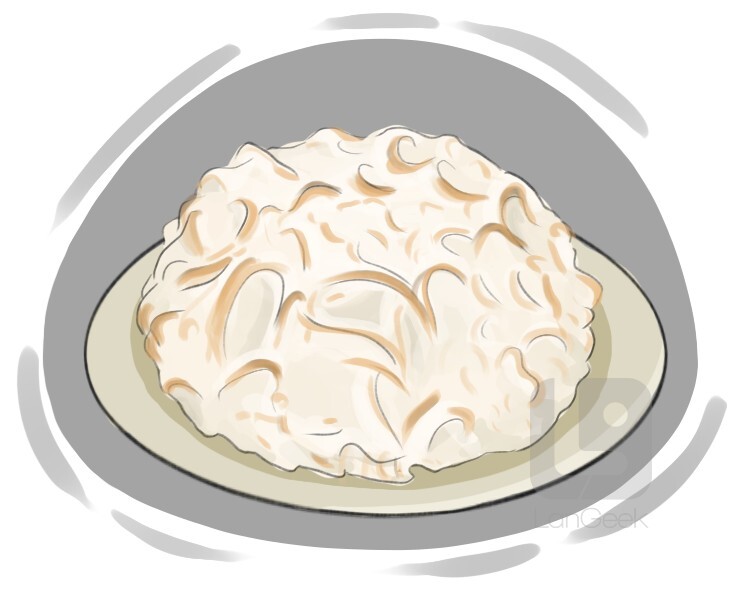 a frozen dessert that is shaped in a semispherical mold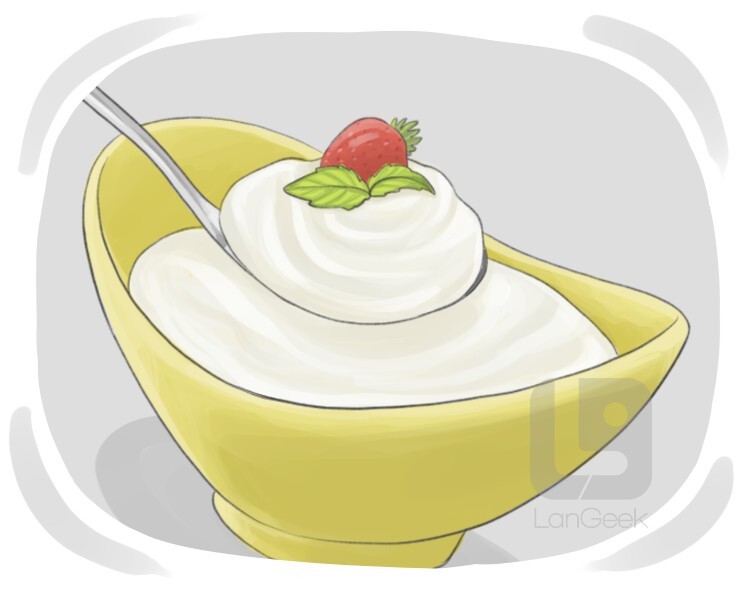 frozen yogurt
frozen yogurt
/fɹˈoʊzən jˈoʊɡɚt/
noun
a soft frozen dessert of sweetened flavored yogurt
*** a frozen dessert of Italian origin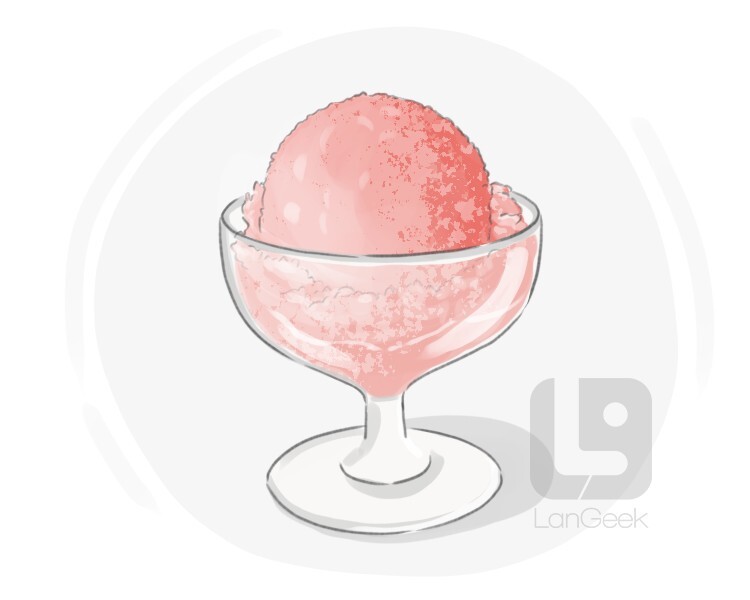 a Sicilian cold dessert that is made by crushed ice and sorbet
similar to ice cream but made of milk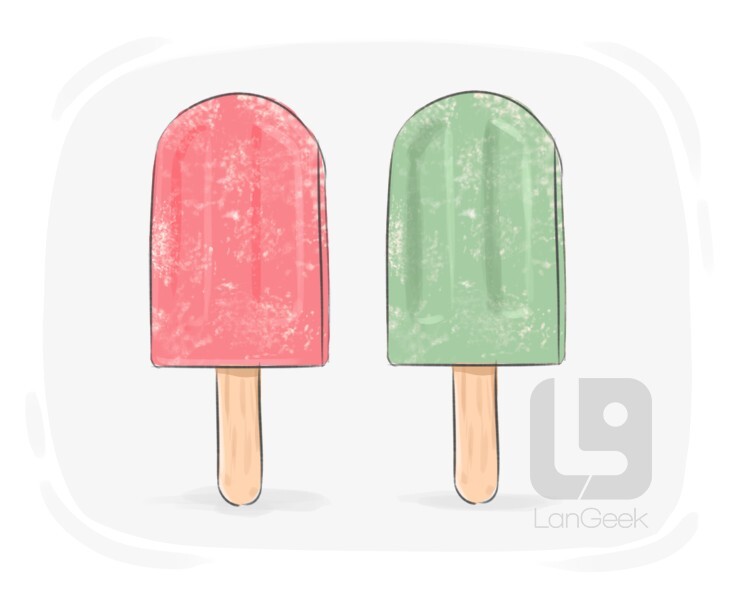 a piece of ice cream on a stick, with different tastes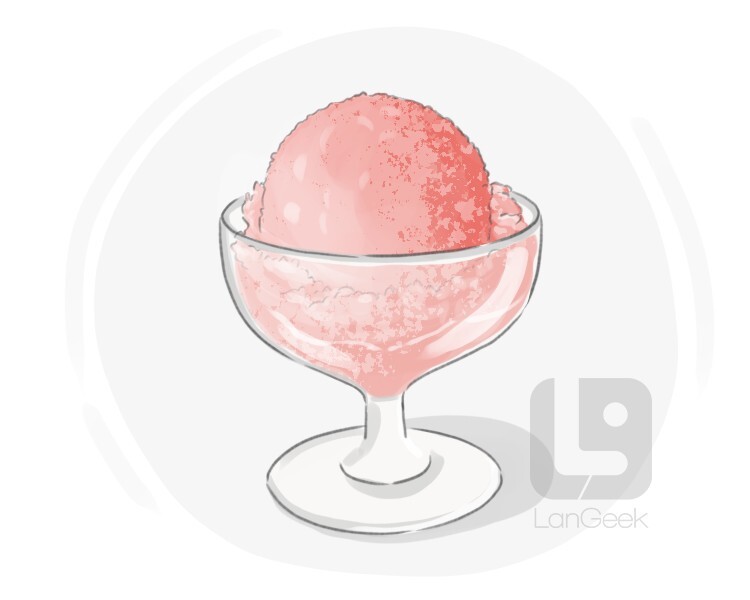 a dessert made from frozen fruit juice, sugar, and water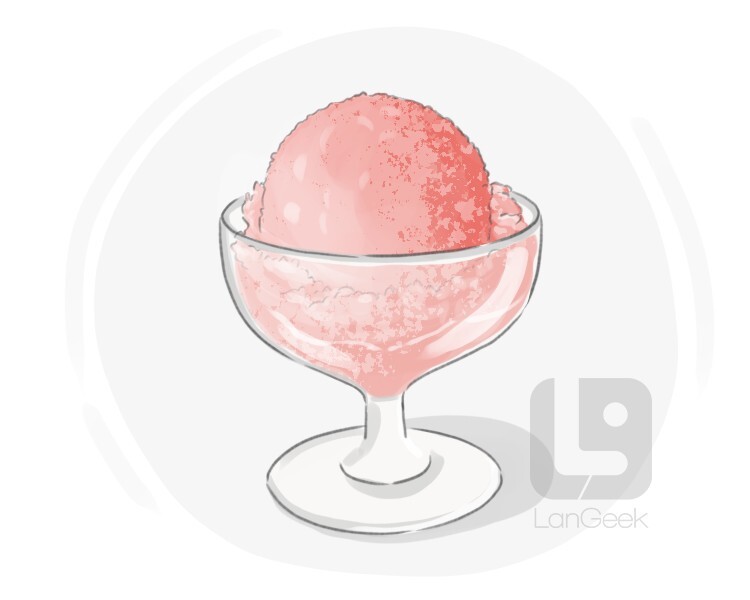 /ˈsɔɹbɛt/, /ˌsɔɹˈbeɪ/
noun
a dessert made from frozen fruit juice, sugar, and water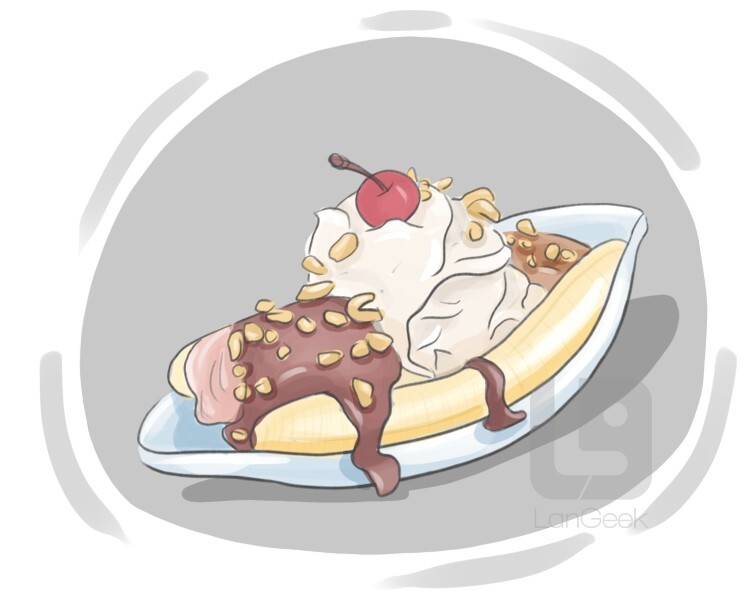 a dessert that is consisted of ice cream with sliced pieces of banana and is topped with fruits, nuts, etc.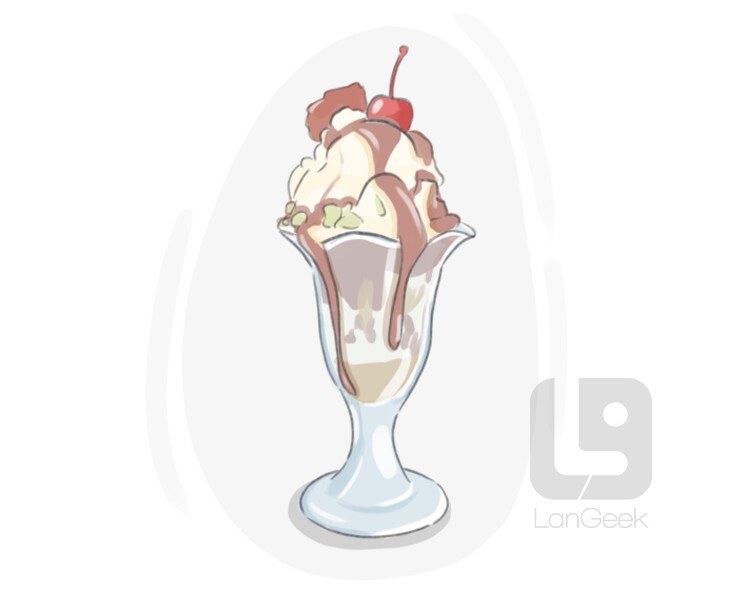 ice cream with fruit, nuts, and syrup on top
layers of ice cream and syrup and whipped cream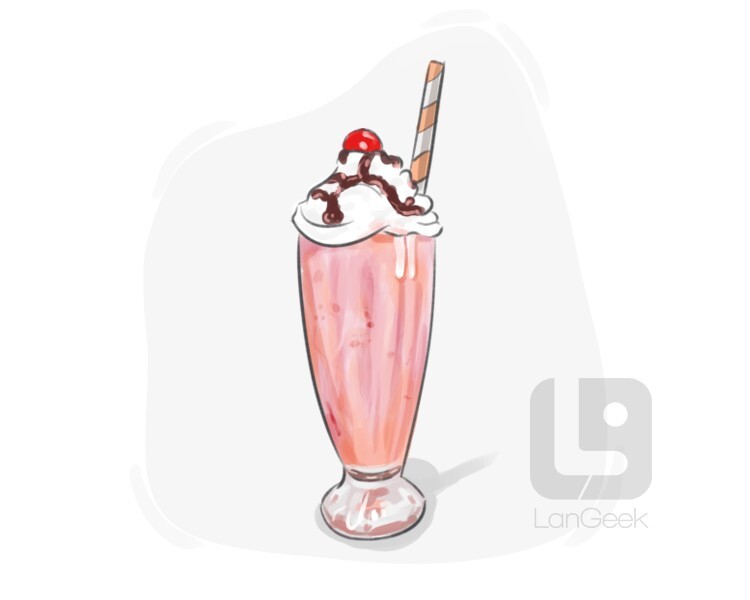 a cold smooth drink made by mixing milk and ice-cream with fruits, chocolate, etc. as flavor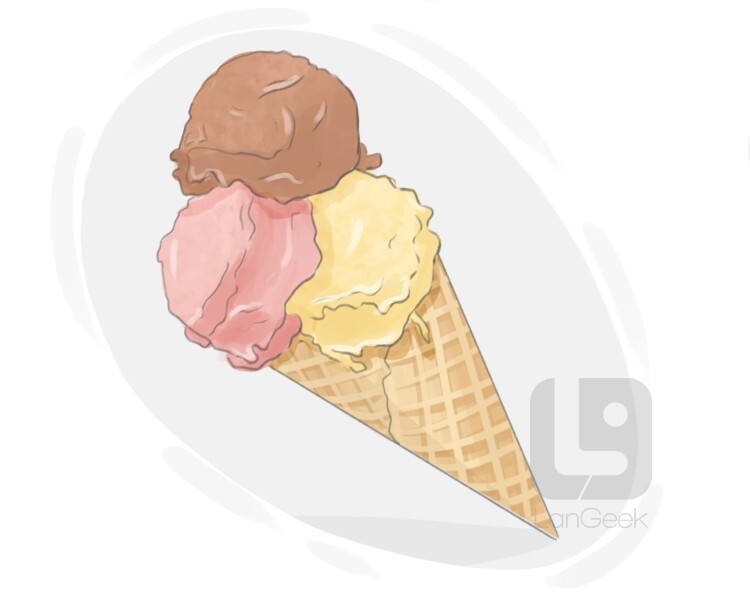 a frozen, sweet food made with milk, cream and sugar, usually with fruit, nuts, chocolate, etc. added to it, often eaten as a dessert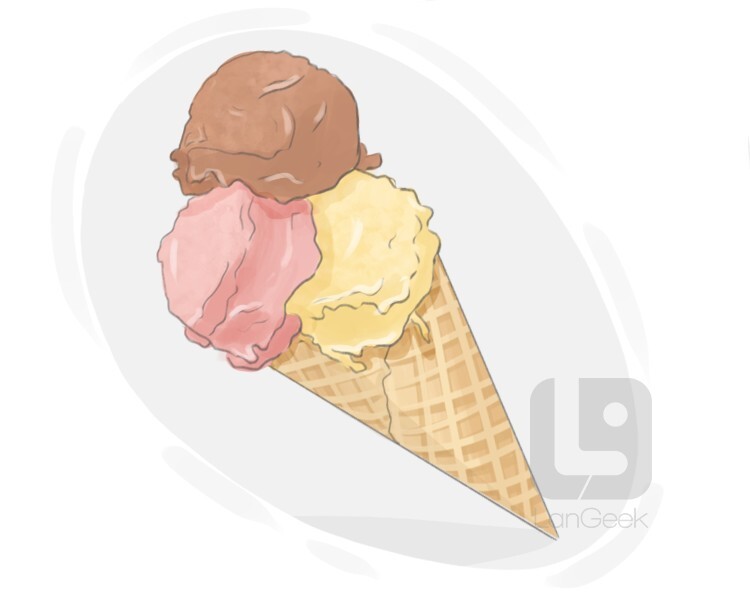 ice cream cone
ice cream cone
/ˈaɪs kɹˈiːm ˈkoʊn/
noun
*** An ice cream cone, poke or cornet is a brittle, cone-shaped pastry, usually made of a wafer similar in texture to a waffle, made so ice cream can be carried and eaten without a bowl or spoon.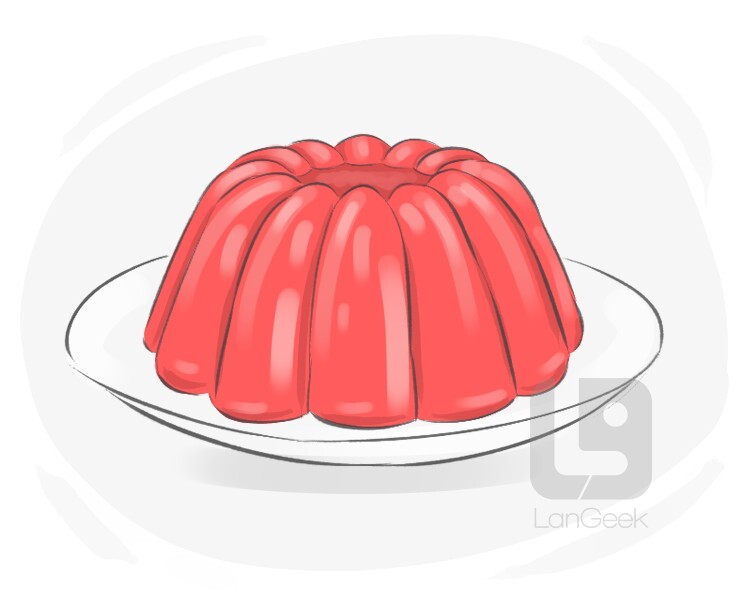 a cold soft dessert made with fruit juice, sugar, and gelatin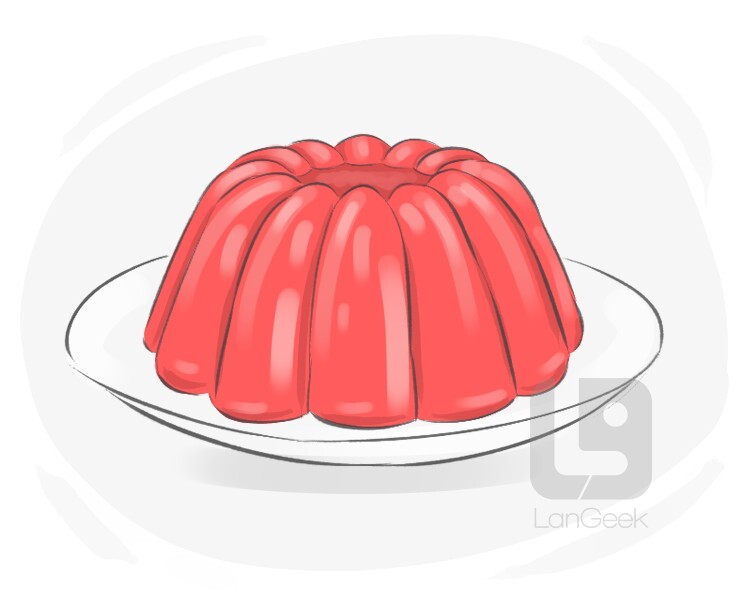 a soft dessert made with fruit juice, sugar, and gelatin, which is served cold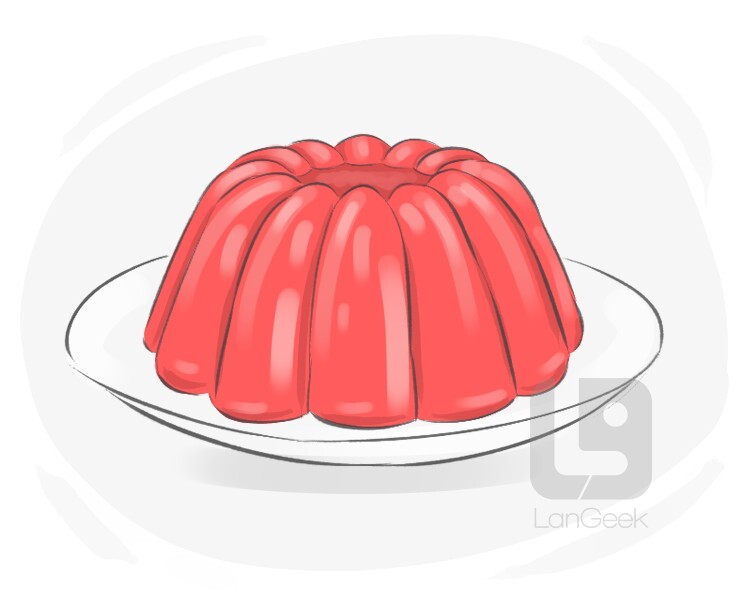 fruit-flavored dessert (trade mark Jell-O) made from a commercially prepared gelatin powder
*** a frozen or semi-frozen sweetened treat made with fruit (often from concentrates, juices, or purées) or other natural or artificial food flavorings
*** traditional Indian ice cream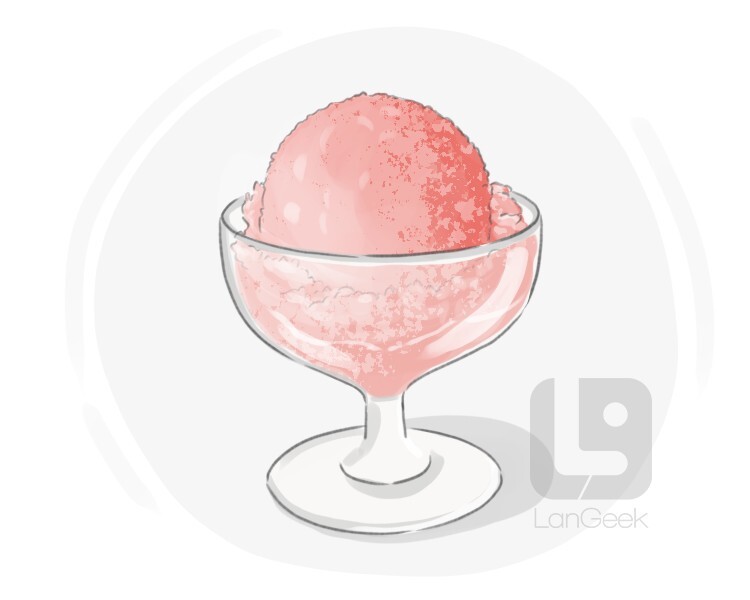 a Sicilian cold dessert that is made by crushed ice and sorbet
*** a type of beverage made of flavored ice and a drink, similar to granitas but with a more liquid composition
*** a frozen dessert, similar to ice cream but softer and less dense due to air being introduced during freezing
*** an Italian dessert of gelato (a type of ice cream) that originated in Pizzo, Calabria. The dessert takes the form of a ball that is composed of two or more flavors of gelato
*** a variation of shaved ice or ground-up ice desserts commonly served in paper cones or foam cups
*** a class of frozen desserts similar to ice cream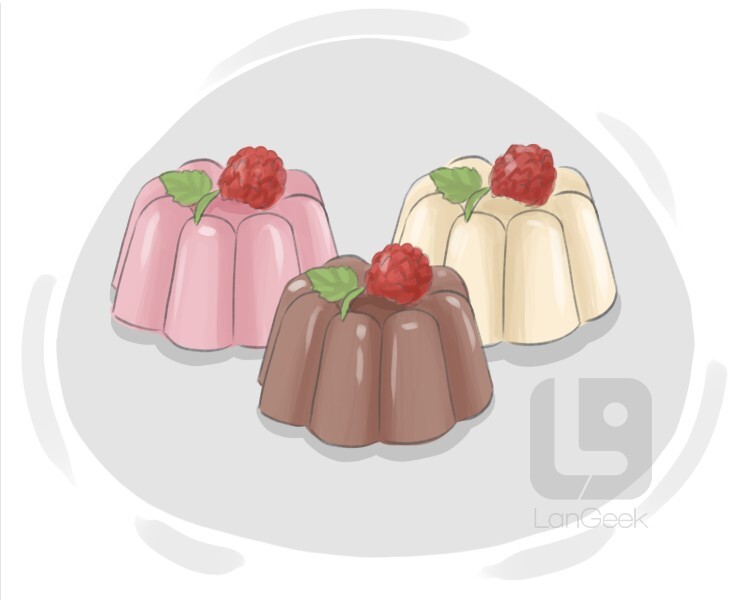 a dessert with a soft texture that is made with milk, rice flour, gelatin, fruits and nuts, especially almonds, which is formed in a mold
Knickerbocker Glory
Knickerbocker Glory
/nˈɪkɚbˌɑːkɚ ɡlˈoːɹi/
noun
a dessert consisting of ice cream, fruit and cream in a tall glass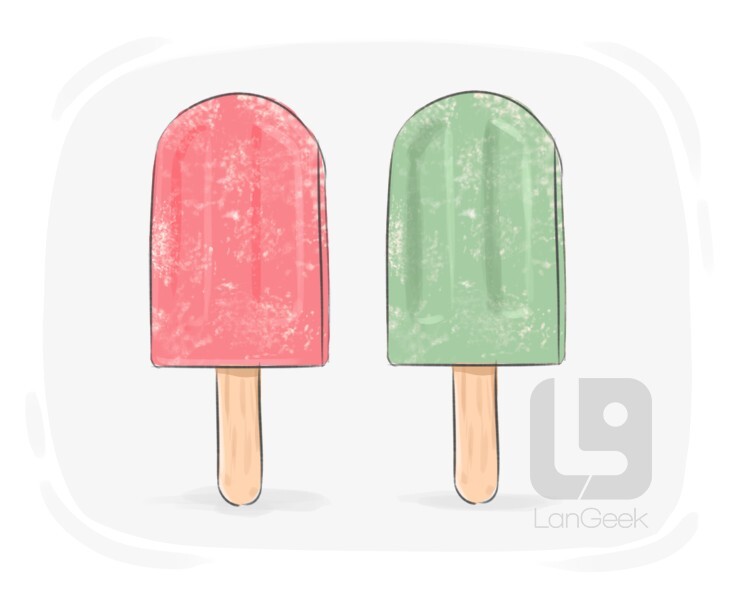 ice cream or water ice on a small wooden stick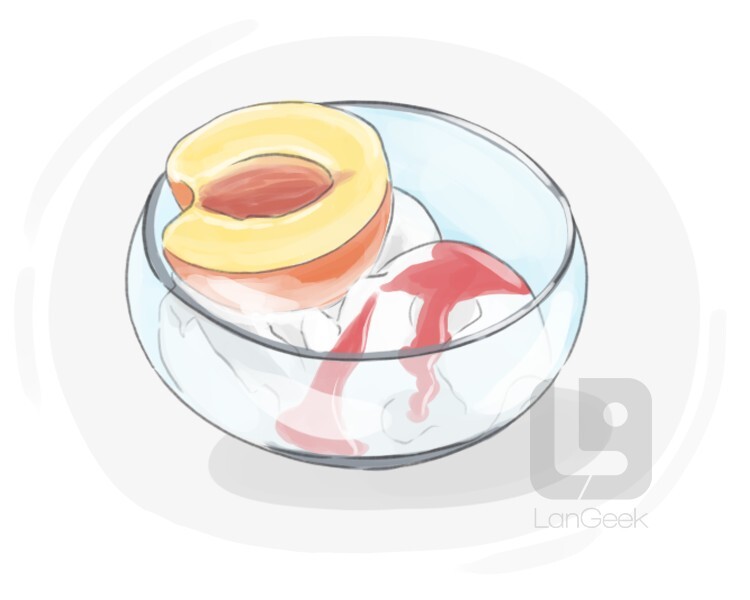 a dessert made with ice cream, raspberry sauce, and peaches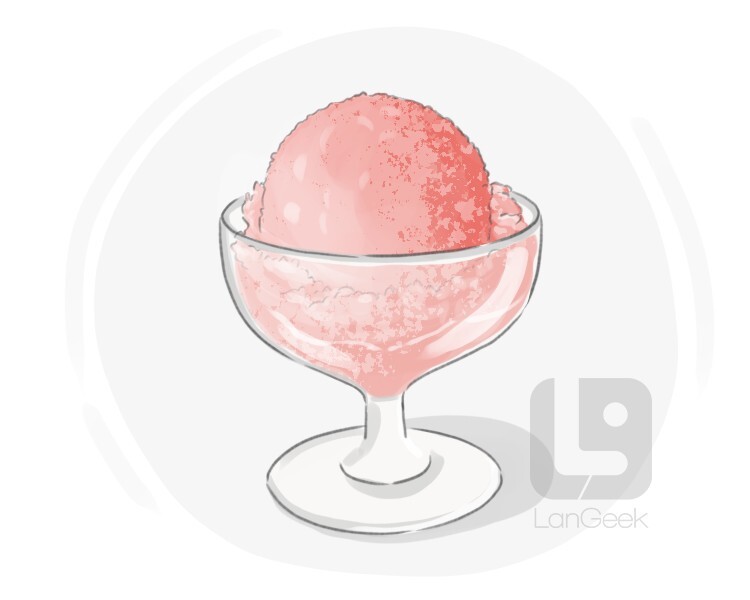 a dessert made from frozen fruit juice, sugar, and water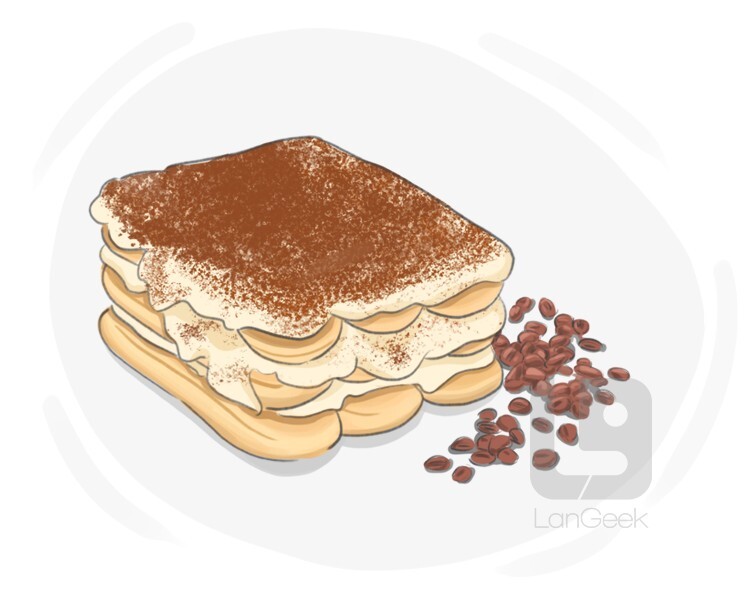 an Italian sweet dish made with layers of cake covered with coffee, chocolate, and mascarpone cheese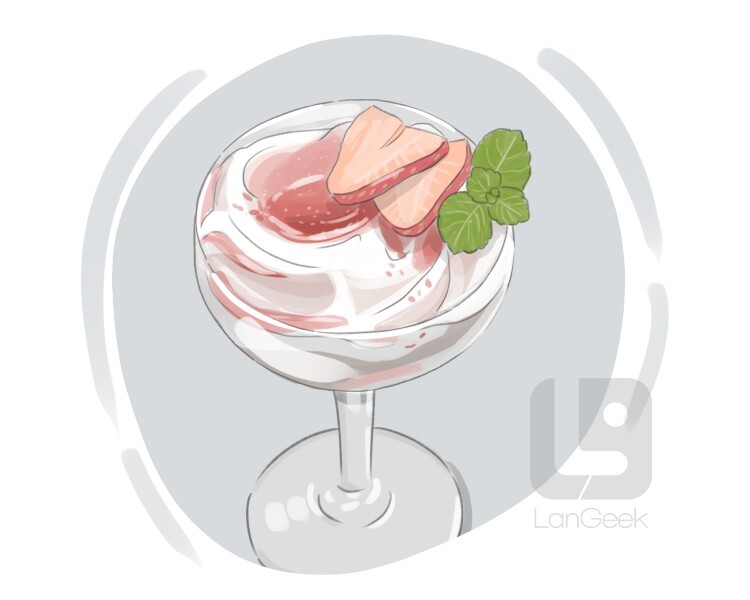 an English dessert that is made by mixing softened fruit with cream or custard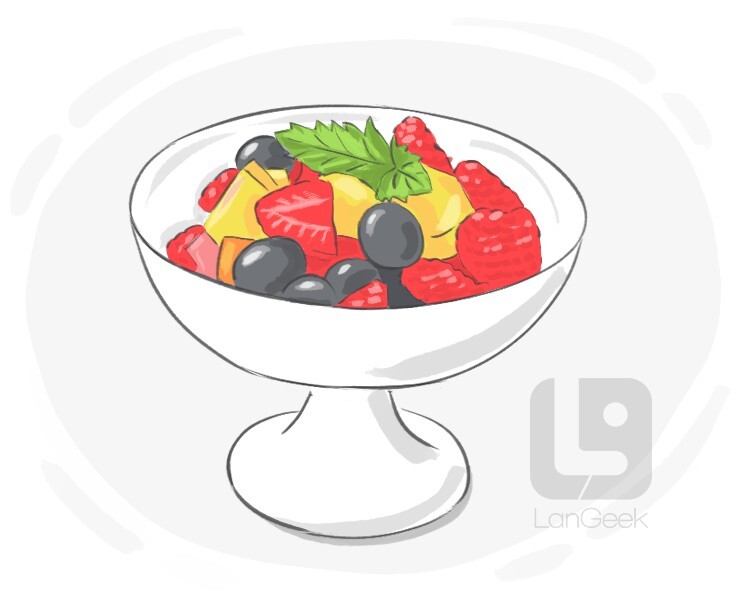 a type of dish consisting of a mixture of chopped fruits
fruit cocktail
fruit cocktail
/fɹˈuːt kˈɑːkteɪl/
noun
a mixture of sliced or diced fruits
*** a dish consisting of various kinds of fruit, sometimes served in a liquid, either their juices or a syrup
*** an American salad made with flavored gelatin, fruit, and sometimes grated carrots or other vegetables
watergate salad
watergate salad
/wɔːɾɚɡeɪt sæləd/
noun
*** a side dish salad or dessert salad made from pistachio pudding, canned pineapple, whipped topping, crushed pecans, and marshmallows
fruit dessert made of oranges and bananas with shredded coconut
*** a dessert salad from the U.S. states of Minnesota and North Dakota made with buttermilk, vanilla pudding, whipped cream, mandarin oranges, and fudge stripe shortbread cookies
glorified rice
glorified rice
/ɡloːɹɪfˌaɪd ɹaɪs/
noun
*** a dessert salad popular in the Midwestern cuisine made from rice, crushed pineapple, and whipped cream
*** an Italian dessert of sweetened cream thickened with gelatin and molded. The cream may be aromatized with coffee, vanilla, or other flavorings
custard sprinkled with sugar and broiled
Great!
You've reviewed all the words in this lesson!