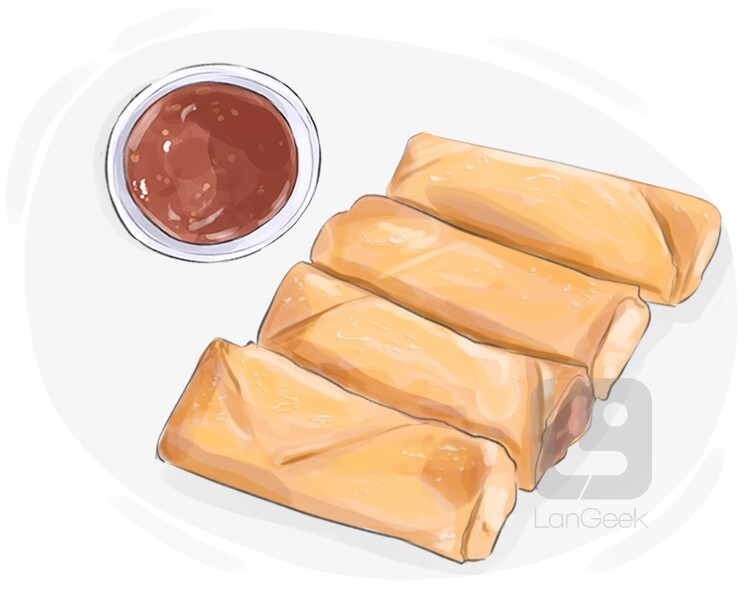 a dish that consists of a pancake that is filled with vegetables and sometimes meat and then fried until crispy, originated in China
*** Chinese dumplings commonly eaten in China and other parts of East Asia
*** a white and soft type of steamed bread or bun popular in northern China
*** a type of yeast-leavened filled bun in various Chinese cuisines
a Chinese dumpling filled with spiced minced pork; usually served in soup
a soup with won ton dumplings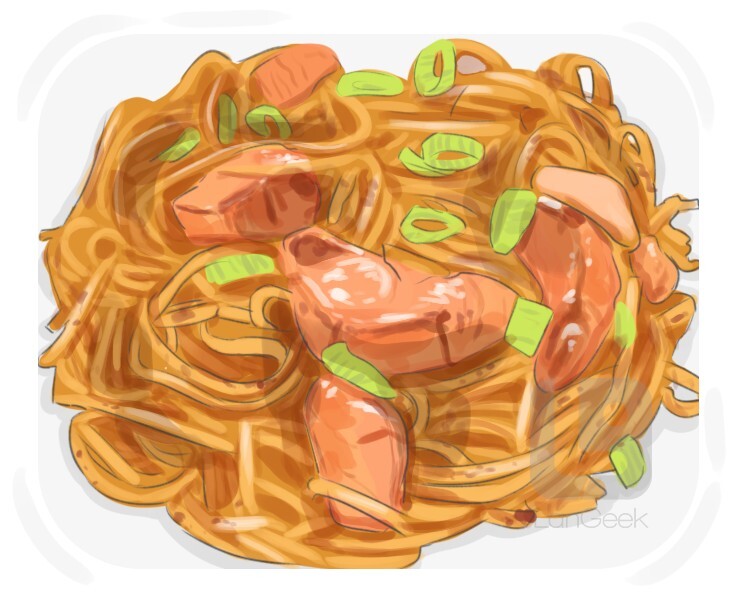 a dish consisting of fried noodles with vegetables and pieces of pulled meat, originated in China
kung pao chicken
kung pao chicken
/kʌŋ paʊ tʃɪkɪn/
noun
*** a spicy stir-fry dish made with diced chicken, vegetables, peanuts, and Sichuan peppercorns
*** a Chinese egg-based culinary dish made by preserving duck, chicken or quail eggs in a mixture of clay, ash, salt, quicklime, and rice hulls for several weeks to several months, depending on the method of processing
*** a dish from Beijing that has been prepared since the Imperial era. The meat is characterized by its thin, crispy skin, with authentic versions of the dish serving mostly the skin and little meat, sliced in front of the diners by the cook
orange chicken
orange chicken
/ɔːɹɪndʒ tʃɪkɪn/
noun
*** an American-Chinese dish consists of battered chicken that is fried with sweet and sour orange and chili sauce
*** any kind of dish made with separately boiled wheat and egg noodles which are then tossed in a savory sauce and mixed with various stir-fried vegetables or meats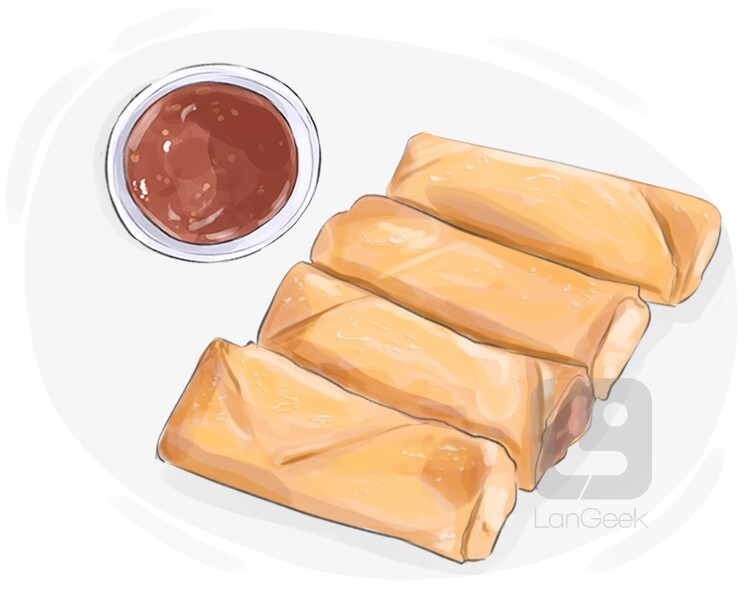 minced vegetables and meat wrapped in a pancake and fried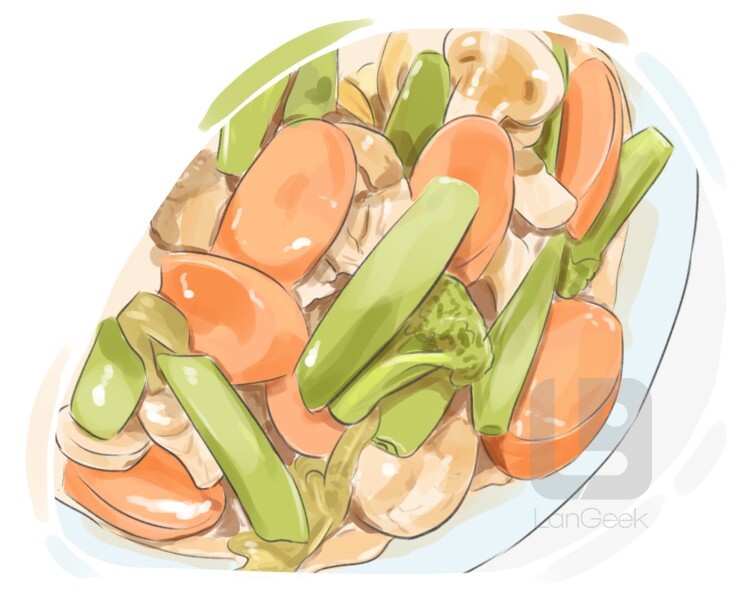 a dish of meat fried with different vegetables, served with rice
boiled rice mixed with scallions and minced pork or shrimp and quickly scrambled with eggs
egg foo young
egg foo young
/ɛɡ fuː jʌŋ/
noun
*** a Chinese-style omelet with vegetables and meat, usually served with a brown gravy
*** a kind of Chinese traditional soup
*** a dish of northern Chinese origin, originating from Shandong. It invariably contains egg, whose yellow color is reminiscent of blossoms of the osmanthus tree, after which the dish is named
General Tso's chicken
General Tso's chicken
/dʒɛnɚɹəl tsoʊz tʃɪkɪn/
noun
*** a sweet and spicy deep-fried chicken dish that is served in North American Chinese restaurants
Mongolian beef
Mongolian beef
/məŋɡoʊliən biːf/
noun
*** fried beef with scallions or white onions in a spicy and often sweet brown sauce
*** one of the most popular dishes in China, The tofu itself is set in hot and spicy sauce before being simmered with bean paste, beef, hot roasted chili oil, and a handful of the infamous tongue-numbing Sichuan peppercorns
*** a Chinese, specifically Cantonese–style of barbecued pork
zha jiang mian
zha jiang mian
/ʒɑː dʒjæŋ maɪən/
noun
*** a Chinese dish consisting of thick wheat noodles topped with zhajiang sauce
dan dan noodles
dan dan noodles
/dæn dæn nuːdəlz/
noun
*** a noodle dish consists of a spicy sauce usually containing preserved vegetables, chili oil, Sichuan pepper, minced pork, and scallions served over noodles
a Chinese rice gruel eaten for breakfast
*** made of beef that has been finely pulverized, other ground meat such as pork may be the ingredients of the beef balls
*** a Hangzhou dish which is made by pan-frying and then red cooking pork belly
*** a traditional Chinese street food similar to crêpes. It is a type of bing generally eaten for breakfast and hailed as "one of China's most popular street breakfasts"
szechuan chicken
szechuan chicken
/ʃzɛtʃjuːən tʃɪkɪn/
noun
*** a chicken stir fry that contains plenty of spice in the form of sichuan peppercorns and dried red chilies
Great!
You've reviewed all the words in this lesson!