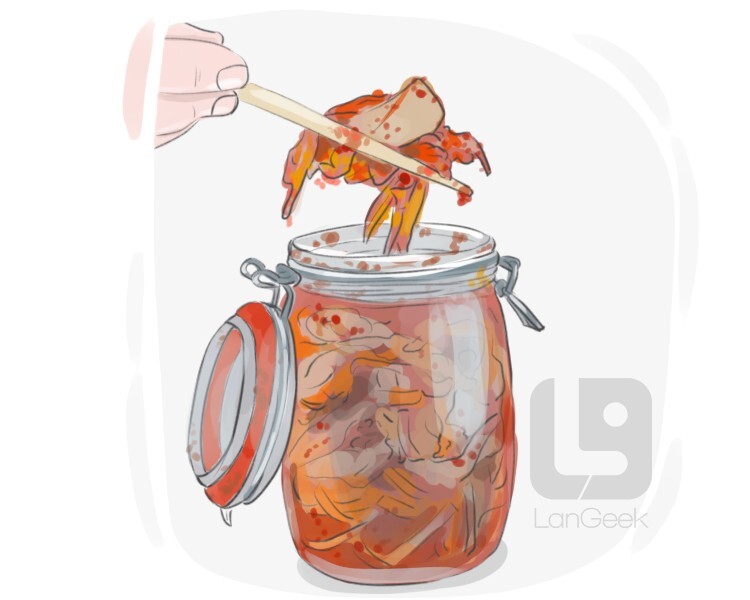 a hot Korean dish made with pickled cabbage, peppers, etc.
*** simmered rice cake, a popular Korean food
*** a gui made of thin, marinated slices of meat, most commonly beef, grilled on a barbecue or on a stove-top griddle
*** a Korean stew made with meat, seafood or vegetables in a broth seasoned with gochujang, doenjang, ganjang or saeujeot
*** a Korean noodle dish topped with a thick sauce made of chunjang, diced pork, and vegetables
*** grilled pork belly is a type of gui in Korean cuisine
*** small side dishes served along with cooked rice in Korean cuisine
*** Korean sushi, consisting of seaweed, seasoned rice, and other, optional ingredients
*** Korean pancake served as appetizers, side dishes, or consumed as snacks
*** grilled ribs, a type of gui in Korean cuisine
*** stir-fry marinated diced chicken in a gochujang-based sauce, and sliced cabbage, sweet potato, scallions, onions and tteok
*** a savory and slightly sweet dish of stir-fried glass noodles and vegetables that is popular in Korean cuisine
*** a grilled dish In Korean cuisine, most commonly has meat or fish as the primary ingredient, but may in some cases also have grilled vegetables or other vegetarian ingredients
*** either a variety of edible grass or leaves or seasoned herbal dishes made of them
*** a Korean dish that consists of two types of instant noodles
rolled omelet
rolled omelet
/ɹoʊld ɑːmlət/
noun
*** in Korean cuisine is a savory banchan made with beaten eggs mixed with several finely diced ingredients
*** a Korean dish consisting of pig's trotters cooked with soy sauce and spices
Korean barbecue
Korean barbecue
/kɚɹiːən bɑːɹbɪkjuː/
noun
*** a popular method in Korean cuisine of grilling meat, typically beef, pork or chicken
*** an instant noodle. It has become a popular choice among Koreans because of its low price and simple recipe and is frequently consumed as a snack
kimchi jjigae
kimchi jjigae
/kɪmtʃɪ dʒɪɡiː/
noun
*** the most popular stew in Korea
*** a pork dish in Korean cuisine. It usually consists of pork shoulder that is boiled in spices and thinly sliced
*** a Korean term for food consumed with alcohol. It consists of a variety of foods, including both main dishes and side dishes
*** Korean-style pasta soup, is a Korean traditional soup consisting of dough flakes roughly torn by hand, with various vegetables
*** a traditional blood sausage that usually consists of rice, glass noodles (dangmyeon), and pig's blood, while the variations may also incorporate barely, bean sprouts, kimchi, perilla leaves, soybean paste, or scallions
*** a sweet Korean dish made by steaming glutinous rice, and mixing with chestnuts, jujubes, and pine nuts
*** ginseng chicken soup consists primarily of a whole young chicken filled with garlic, rice, jujube, and ginseng
*** a non-spicy Korean soup whose main ingredient is miyeok, or seaweed
*** a traditional Korean dish eaten during the celebration of the Korean New Year
*** salted fermented seafood in Korean cuisine, which is made by marinating fresh raw crabs either in ganjang (soy sauce) or in a sauce based on chili pepper powder
Great!
You've reviewed all the words in this lesson!