*** a sandwich consisting of a ground beef patty with melted cheese (traditionally Swiss Cheese) and topped with caramelized onions between two slices of griddled bread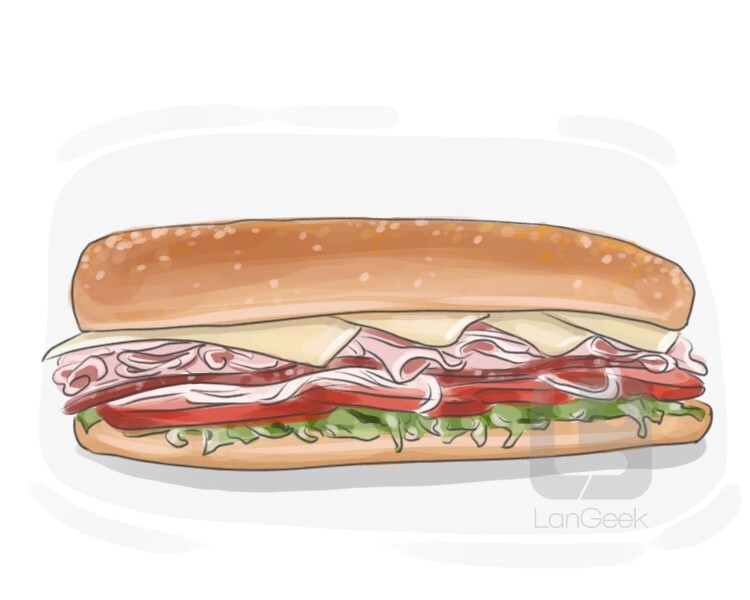 sandwich filled with slices of bacon and tomato with lettuce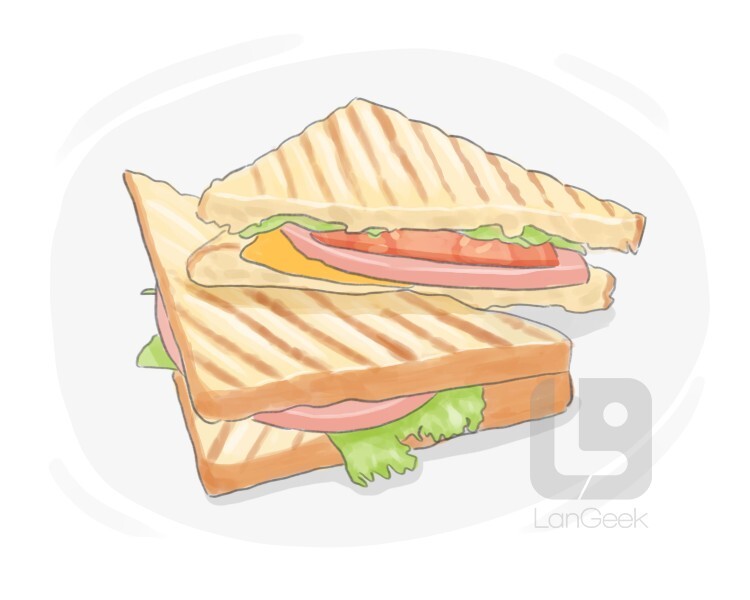 club sandwich
club sandwich
/klˈʌb sˈændwɪtʃ/
noun
made with three slices of usually toasted bread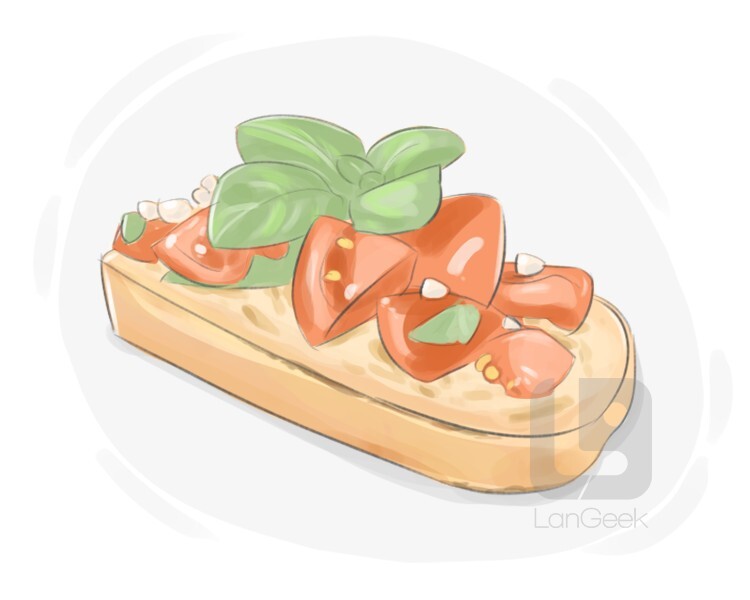 ‌a dish that consists of toasted bread soaked in olive oil with garlic or slices of tomato, originated in Italy
cinnamon toast
cinnamon toast
/sˈɪnəmən tˈoʊst/
noun
buttered toast with sugar and cinnamon (and nutmeg and grated lemon peel)
*** an Italian appetizer consisting of small slices of grilled or toasted bread and toppings
bread slice dipped in egg and milk and fried; topped with sugar or fruit or syrup
egg in the basket
egg in the basket
/ˈɛɡ ɪnðə bæskɪt/
noun
*** an egg fried in a hole made in a slice of bread
French or Italian bread sliced and spread with garlic butter then crisped in the oven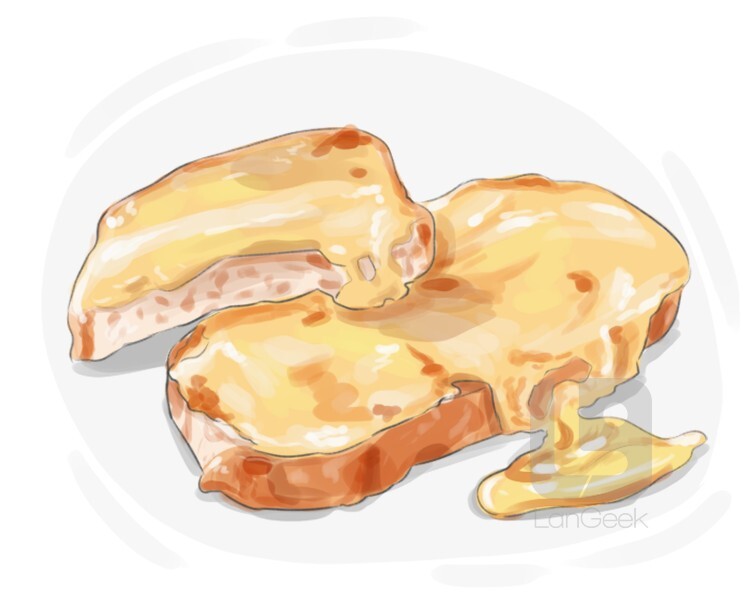 welsh rarebit
welsh rarebit
/wˈɛlʃ ɹˈɛɹbɪt/
noun
a dish of melted cheese on toast
*** a traditional open sandwich prepared with sauteed beef tongue and scrambled eggs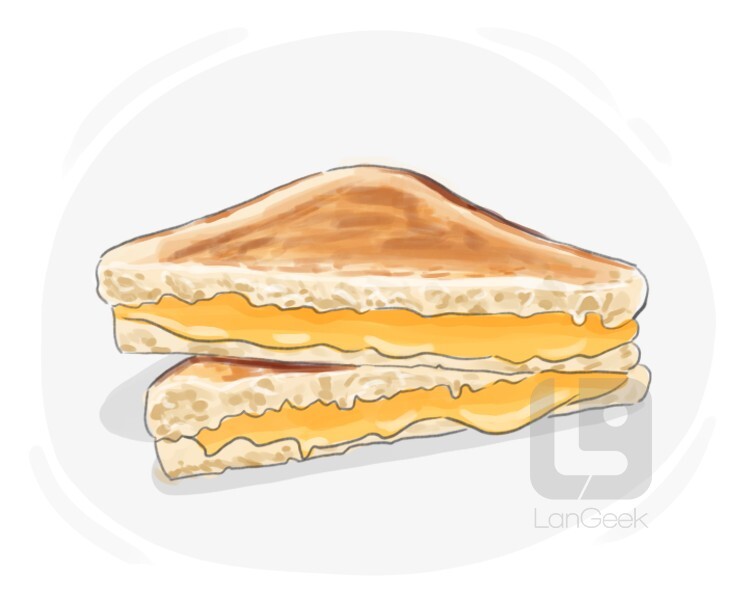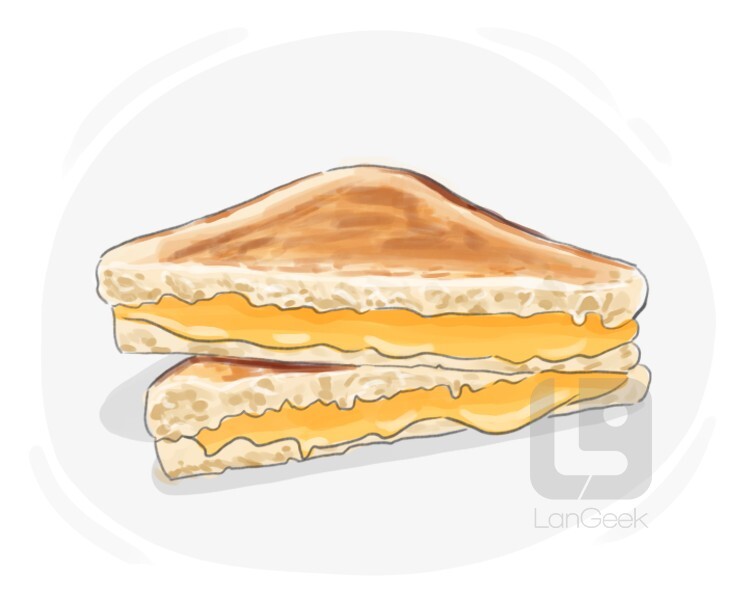 grilled cheese sandwich
grilled cheese sandwich
/ɡrɪld tʃiːz ˈsændwɪtʃ/
noun
*** a hot sandwich typically prepared by heating one or more slices of cheese between slices of bread, with a cooking fat such as butter, on a frying pan, griddle, or sandwich toaster, until the bread browns and the cheese melts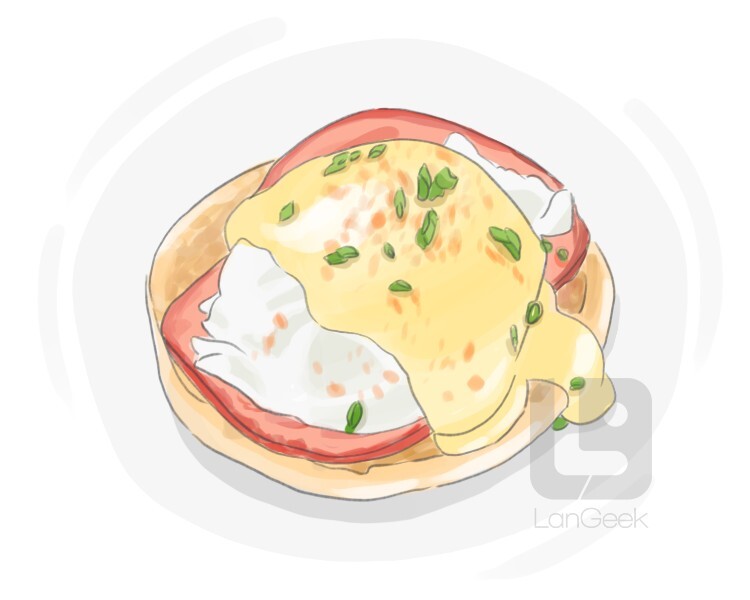 eggs benedict
eggs benedict
/ˈɛɡz bˈɛnɪdˌɪkt/
noun
a dish of poached eggs and ham served on round flat bread rolls called muffins, with hollandaise sauce topping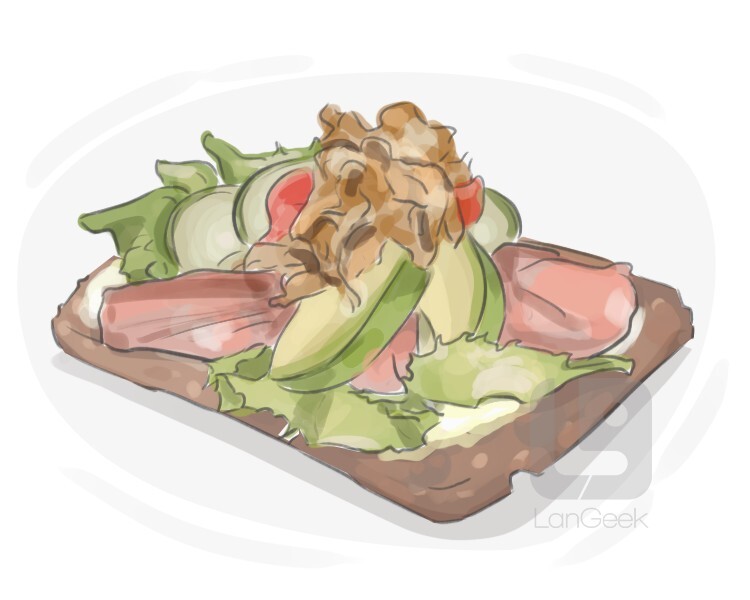 open sandwich
open sandwich
/ˈoʊpən sˈændwɪtʃ/
noun
a single slice of bread topped with cheese, meat, vegetables, etc.
*** thin strips of toast; the strips that a slice is cut into are reminiscent of soldiers on parade. The toast is sliced in this manner so that it can be dipped into a soft-boiled egg that has had the top of its shell removed
*** an open sandwich consisting of a slice of toast with ham and cheese, and a maraschino cherry in the middle of a pineapple slice, broiled, so that the cheese starts to melt
very thin crisp brown toast
*** a Cantonese dim sum dish from Hong Kong. It is made from small triangles of bread, coated with a paste made from minced shrimp and cooked by baking or deep frying
a small piece of toasted or fried bread; served in soup or salads
piece of solid food for dipping in a liquid
*** a triangular slice of bread that has been toasted after the crusts have been cut off
Great!
You've reviewed all the words in this lesson!