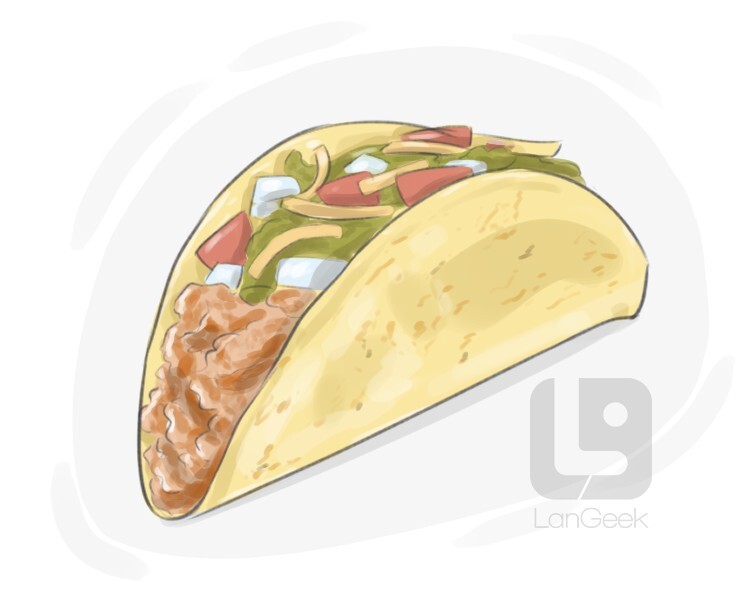 a dish that consists of a folded tortilla filled with ground meat, beans, etc., originated in Mexico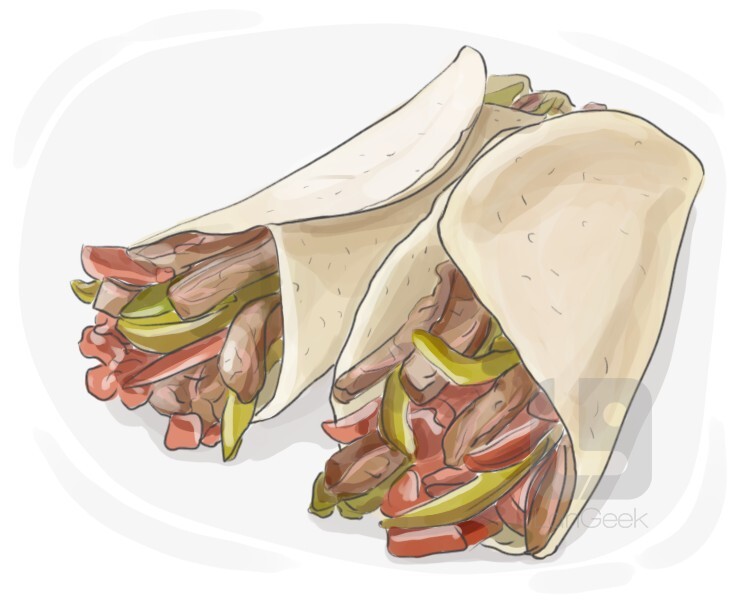 /fəˈdʒitəz/, /fəˈhitəz/
noun
‌a dish of strips of meat, cut up vegetables, and cheese wrapped in a tortilla and often served with sour cream, originated in Mexico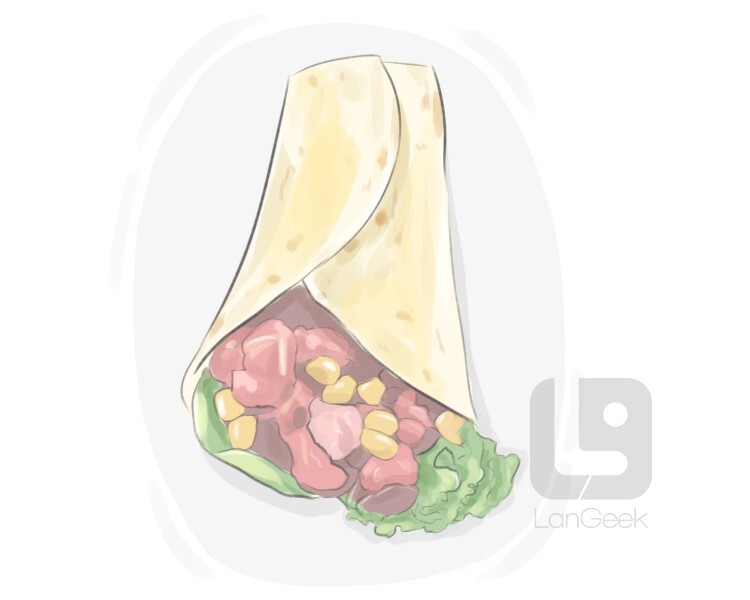 a dish of a tortilla wrapped around a mixture of ground meat or beans, originated in Mexico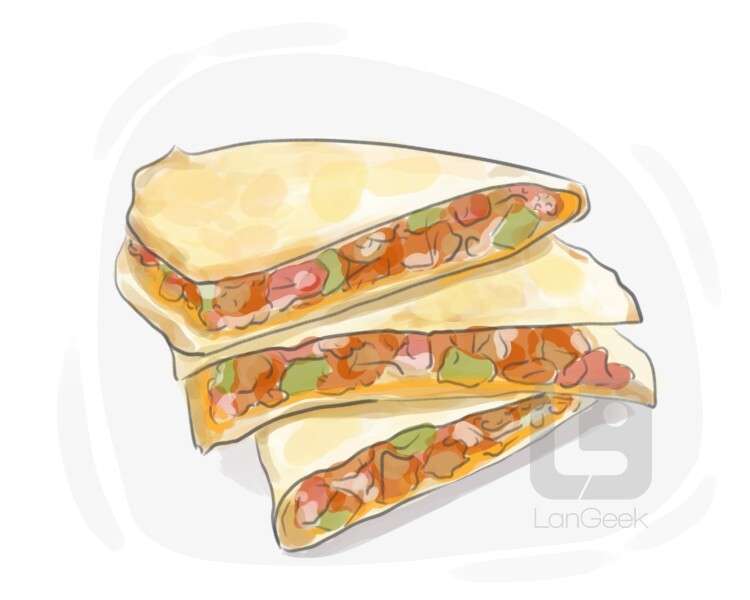 a dish of a tortilla filled with cheese and sometimes meat and then fried, originated in Mexico
*** (in Mexican cooking) beef, lamb, or other meat that has been slowly cooked with seasonings, typically shredded as a filling in tacos, burritos, etc.
*** a traditional Mexican breakfast dish consisting of corn tortillas cut into quarters and lightly fried
huevos rancheros
huevos rancheros
/huːvoʊz ɹæntʃɛɹoʊz/
noun
*** a breakfast dish consisting of eggs served in the style of the traditional large mid-morning fare on rural Mexican farms
*** a traditionally dried meat, usually spiced beef or pork, that is rehydrated and then used in popular local cuisine in Northern Mexico and the Southwestern United States
*** a mixed meat dish popular in the northern Mexican cuisine
*** a traditional Mexican soup, made with cow's stomach in broth with a red chili pepper base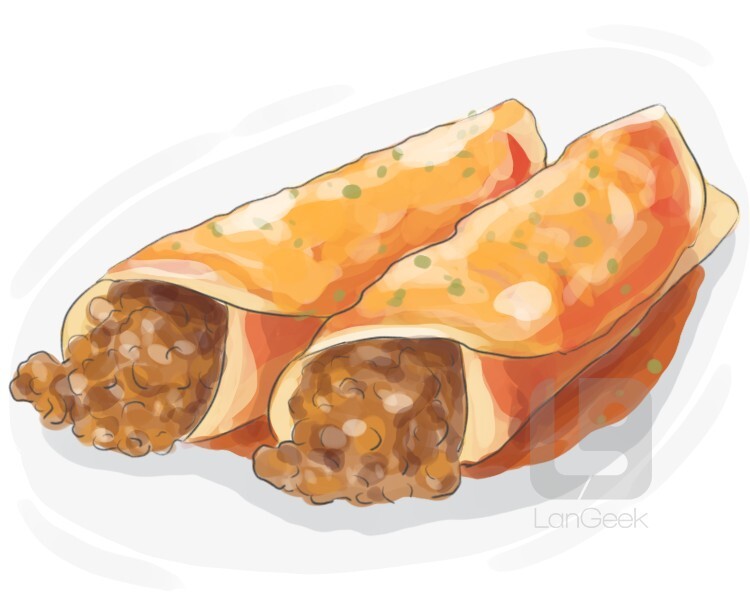 a dish of tortilla filled with meat or cheese and covered with a spicy sauce, originated in Mexico
*** a Mexican dish made of shrimp, submerged in liquid seasoned with chiltepin peppers, lime juice, salt, slices of cucumber and slices of onion
*** a popular Mexican sandwich originating from Puebla, consisting of a fresh, sesame seed-sprinkled bun filled with tiny strands of shredded cheese, avocado slices, pickled jalapeños, papalo (herb with a unique flavor), and cutlets of meat such as pork, beef, or chicken, all fried in breadcrumbs
*** a filled, corn-based pastry usually served as an appetizer or snack in Mexican cuisine. It consists of a dough made from corn masa, sometimes blended with mashed potatoes, that is filled with various ingredients, then fried in lard or oil
*** a Mexican food dish that typically consists of a small rolled-up tortilla that contains filling, including beef, cheese or chicken
*** a traditional Mexican dish consisting of a fried masa base with savory toppings
*** a traditional dish of Mexican cuisine. It consists of small cuts of meat cooked in various Mexican sauces, either of dried chili or fresh chilis sauces
*** a Mexican side dish made from white rice, tomato, garlic, onion, and perhaps other ingredients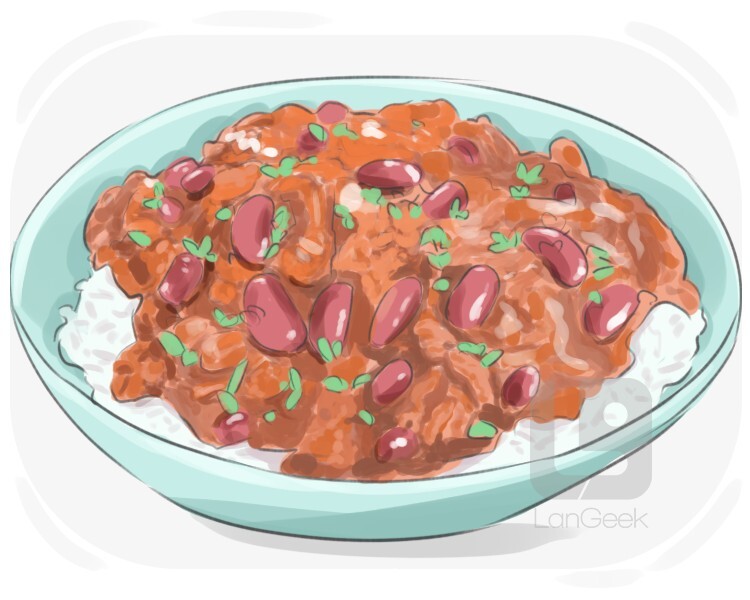 ground beef and chili peppers or chili powder often with tomatoes and kidney beans
*** enchiladas covered in mole sauce
*** a Mexican dish consisting of fresh corn tortillas smothered with beans in their liquid
*** a popular Mexican street food item in the form of a fruit cocktail, originating from Guadalajara. Chopped fruits such as papaya, strawberries, cantaloupe, apples, and bananas are topped with a sweet cream mixture, granola, pecans, raisins, and desiccated coconut
*** a Mexican dish with Mayan origins consisting of egg-filled tortillas drenched in a sauce made with pumpkin seeds and epazote
*** a culinary term that can, depending on the cuisine, refer to cakes, pies, flatbreads, sandwiches, or omelettes
dough stuffed with a meat mixture and sometimes wrapped in corn husks and steamed
a flat tortilla with various fillings piled on it
*** a Mexican dish or antojito made with pambazo bread dipped and fried in a red guajillo pepper sauce
*** a dish made with masa and stuffed with cheese, meat, or other fillings
*** a handmade dish in traditional Oaxacan cuisine, consisting of a large, thin, crunchy, partially fried or toasted tortilla covered with a spread of refried beans, asiento, lettuce or cabbage, avocado, meat, Oaxaca cheese, and salsa
*** small, thick, boat-shaped fried masa topped only with salsa, cheese and shredded lettuce
Great!
You've reviewed all the words in this lesson!