Possum vs. Opossum
Let's delve into the similarities and differences between these two words, shall we? I know you might look confused, but It's ok.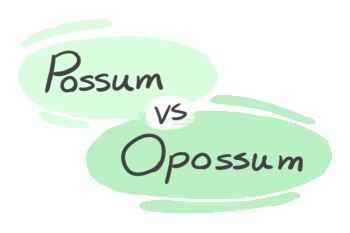 What Is Their Main Difference?
Both refer to a species of marsupial creatures. However, a 'possum' is a term commonly used in Australia, New Zealand, and other adjacent islands. 'Possums' can grasp trees and move freely using their tails. 'Opposums', on the other hand, refers to marsupial species native to North Americans. 'Opossums' have sharp teeth and white faces.
Differences
As stated above, 'possums' are marsupials in Australia, New Zealand, and other neighboring islands. They can grasp trees with their long tails. Look below:
Most native Aussies have seen possums.
No one has ever said their favorite animal was a possum.
'Opossums', on the other hand, refers to marsupials in North America and Canada. They have white faces and sharp teeth. Check out the following examples:
Possums and opossums are both marsupials.
So, opossums only live in America?
Similarities
They both refer to species of marsupials. Look at the examples below:
Today, Ms. Kendrick is gonna have a presentation on possums.
Are They Interchangeable?
Although they have slight differences, most native speakers use them interchangeably. Compare:
✓ Are there possums in this zoo?
✓ Are there opossums in this zoo?
Download LanGeek app