Threw vs. Through
This time, we're gonna talk about these two words. Do you think they have similar functions? Well, if you come with me, you can learn more.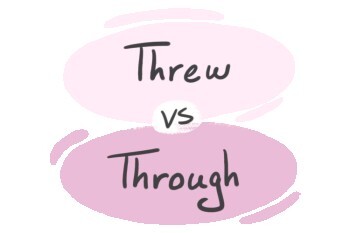 What Is Their Main Difference?
Differences
'Threw' is the simple past tense form of the verb 'throw', whereas, 'through' is can function as both a preposition and an adverb of movement and direction. Look below:
The girl threw her hands up in the air.
The boy ran through the tunnel.
Similarities
They are only similar in that they have similar pronunciations.
Are They Interchangeable?
Since they are two completely different words, with totally different meanings, they cannot be used interchangeably. Compare:
✓ I saw how fearlessly she threw herself in the water.
X I saw how fearlessly she through herself in the water.
Download LanGeek app