Suppose vs. Supposed
In this lesson, we will talk about the differences and similarities between these words. If you wanna expand your knowledge, join me.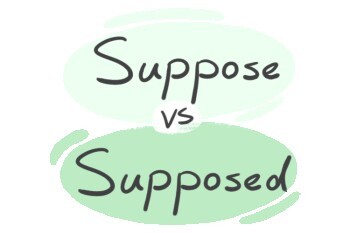 What Is Their Main Difference?
'Suppose' means doubting whether something is true, while, 'supposed' comes with the preposition 'to' and means being expected to do something.
Differences
'Suppose' means considering something to be true, even though you are not sure, while, 'supposed to' indicates that you are expected to be doing something. Note that 'supposed' is always followed by 'to'. Look at the examples below:
I suppose he was really poor at that time.
How am I supposed to react then?
Similarities
They only have similar dictations.
Are They Interchangeable?
Since they have different grammatical functions and meanings, avoid using them interchangeably. 'Supposed' is always followed by 'to'. Compare:
✓ Hannah is supposed to be here at 8.
X Hannah is suppose be here at 8.
As you can see, this one is wrong.
Download LanGeek app