Teaching vs. Learning
Ladies and gentlemen, are you ready for some new vocabulary? Well, we proudly present to you: The differences between 'teaching' and 'learning'.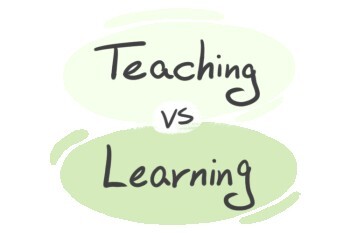 What Is Their Main Difference?
Both are related to gaining new knowledge and expertise in a particular subject/field. However, 'teaching' is about instructing someone to do something properly, while, 'learning' is about acquiring knowledge.
Differences
When you 'teach' someone something, you instruct them in a particular subject. In other words, you import your knowledge and understanding to them, letting them gain more understanding. Look at the examples below:
I can teach you French if you want.
Today, I've decided to teach you about Structuralism.
When someone 'learns' something, they are being instructed. In other words, they gain more comprehension in a particular subject/field.
Mom, today I learned how to swim.
Learning how to control one's emotions is not as easy as you think.
Similarities
Both are about spending time to import one's knowledge to someone or gain more understanding from someone. Check out the following examples:
I've been teaching several languages like Korean, French and English for several years now.
They say learn the lesson and let go.
Are They Interchangeable?
As it was clear above, these two can never be used interchangeably because 'teaching' is what the instructor does, and the learners 'learn'. Compare:
✓ Jane has finally agreed to teach me how to play the guitar.
X Jane has finally agreed to learn me how to play the guitar.
Download LanGeek app