Joyous vs. Joyful
I must say, I admire your eagerness to learn. Now, do you still wanna gain more knowledge? Well then, you're just at the right place.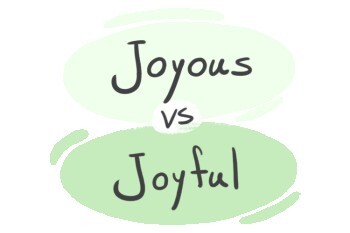 What Is Their Main Difference?
These two both refer to how something makes us happy or how someone is cheerful. However, 'joyful' is more about people, whereas, 'joyous' is more about a pleasant event, thing, etc. Additionally, they are both adjectives from a grammatical point of view.
Differences
Basically, these two terms are nearly identical. Some believe that it is more appropriate to use 'joyful' for people and 'joyous' for things, events, etc. Look at the examples below:
The manager seemed joyful about the whole project.
When was the last time you had a joyous evening with your partner?
Similarities
As mentioned above, they have the same grammatical functions in that they are adjectives. Both also refer to something/someone pleasant. Check out the examples below:
Describe a joyous activity you have done recently.
Are They Interchangeable?
Most native speakers use these terms interchangeably. Compare:
✓ Listening to joyful music does not really help when you're sad.
✓ Listening to joyous music does not really help when you're sad.
Download LanGeek app