Keep vs. Put
This time, we're gonna delve into the secrets between these two words and learn about the differences and similarities between them. Wanna come?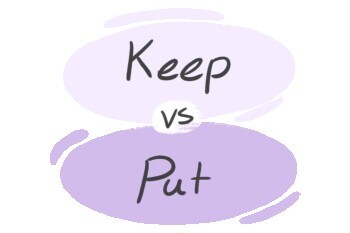 What Is Their Main Difference?
From a grammatical point of view, 'put' and 'keep' are both verbs. However, 'put' refers to placing something/someone in a particular position, whereas, 'keep' refers to holding something/someone.
Differences
Basically, these two verbs are different when it comes to meaning. 'Keep' is about holding something or someone. It indicates possession. Its past participle form is also 'kept'. Look at the examples below:
I wanna keep this necklace till the day I die.
Sarah has kept this notebook with herself all these years.
'Put', however, is about placing something/someone in a particular position. The past participle form of 'put' is 'put'. Take a look at the examples below:
The witch put the candle on the shelf and stared deep into my eyes.
Mom can you put the pile of clothes on my bed please?
Similarities
The only similarity between these two is that they are both verbs. Look:
"Put the books here" the professor said.
She kept my diary all this time and she never told me that.
Are They Interchangeable?
These verbs are completely different. They cannot be used interchangeably because 'keep' is about possession, whereas 'put' is about placement. Compare:
✓ I asked the secretary to keep the files.
X I asked the secretary to put the files.
Download LanGeek app