When vs. What time
'When' and 'what time' are used to ask questions about the time of events that already occurred or will occur in the future. In this lesson, we will learn more.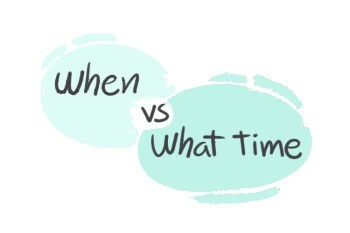 What Is Their Main Difference?
The main difference between 'when' and 'what time' is that 'what time' is more precise than 'when.'
When
'When' has multiple functions in the english grammar such as interrogative adverb, relative adverb, and conjunction.
Perhaps the most commonly known usage of 'when' is as an interrogative adverb. We use 'when' at the beginning of a question to acquire information about time.
When did you study in England?
What time
'What time' consists of the interrogative determiner 'what' and the noun 'time.' We use the noun after 'what' to specify what we are asking about. In this case, we are asking about the time of occurrences.
What time will the event begin?
When To Use Them?
While 'when' and 'what time' both ask about time, note that 'what time' requires a more specific answer. 'When,' however, requires a less detailed and a more general answer.
Download LanGeek app