How vs. Why
'How' and 'why' are wh-words commonly used in the English language. In this lesson, we will learn more about these words and their similarities and differences.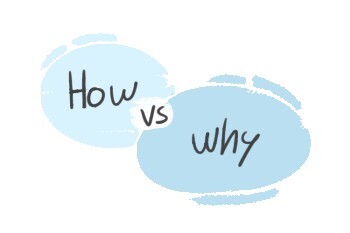 What Is Their Main Difference?
Parts of Speech
'Why' and 'how' have a slight difference in their parts of speech. We have summarized it for you in a table below for better understanding:
'Why' and 'how' are mainly used at the beginning of the sentence to ask questions.
'How' is used as a conjunction. It is used to connect clauses. Conjunctions have several types according to the meaning they convey. 'How' is classified as a conjunction of manner.
You can design it how you like it.
Do you know how to fix this typewriter.
'Why' can be used as a relative adverb. It joins an independent clause to an adjective clause. Note that in this case it follows the noun 'reason.'
I like pizza a lot, the reasonwhy is the toppings and the cheese.
The one reason why I quit was that I felt unappreciated.
Meaning
'Why' and 'how' are completely different when it comes to the meaning they convey. 'Why' asks about the 'reason' of something and 'how' asks about the 'method' or 'way' of something.
Download LanGeek app