How to Pronounce the /k/ Sound
Here, we will learn all there is about the /k/ sound. Do you wanna improve your English language proficiency? Let's go, then.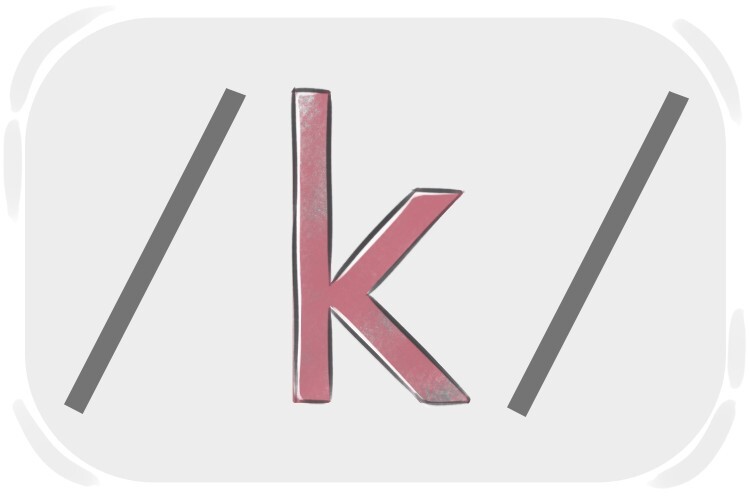 In this lesson, we are going to learn about how to pronounce the /k/ sound using the proper articulatory organs.
What Type of Sound Is /k/?
/k/ is a consonant in the English language.
How to Produce /k/?
As you can see in the picture (b), the tongue plays an important role in the production of the /k/ sound. The back of the tongue is raised till it touches the soft palate. Note that the air is blocked so it can move neither through the nose nor through the mouth. The tip of the tongue does not make contact anywhere. When the tongue lowers itself, the air behind it is released forcefully. So, the /k/ sound is produced from the mouth. Also note that the circle of the vocal cords in the throat is grey, signifying that we do not need to vibrate our vocal cords in the process. So, it is voiceless.
As you can see in the picture (a), the lips are parted and the teeth are slightly close, but not touching.
In picture (c), you can easily recognize the soft palate where you should place the back of your tongue when producing the /k/ sound. Below are the letters that represent the /k/ sound:
Psychology /saɪˈkɑː.lə.dʒi/
Tip!
It might come in handy to know that the letter /C/ has two sounds. If it has a /k/ sound, it is called hard C and when it sounds like /s/, it is called soft C. Look below:
/k/ Sound in 17 Most Common World Languages
Below you can find the table of the /k/ sound in 17 most common languages across the globe. Look:
| | | |
| --- | --- | --- |
| Mandarin | X | - |
| Spanish | ✔ | casa |
| Hindustani | ✔ | काम / کام |
| Bengali | X | - |
| Portuguese | ✔ | corpo |
| Russian | ✔ | короткий |
| Japanese | ✔ | 鞄 |
| Vietnamese | ✔ | cam |
| Marathi | ✔ | कवच |
| Turkish | ✔ | kulak |
| French | ✔ | cabinet |
| German | ✔ | Käfig |
| Italian | ✔ | casa |
| Persian | ✔ | کارد |
| Arabic (Standard) | ✔ | كتب |
| Korean | ✔ | 감자 |
Download LanGeek app for free