How to Pronounce the /n/ Sound
This time, we're gonna help you learn how to produce the /n/ sound. Well, you know that everything comes easy with me, right?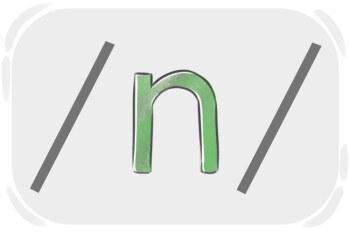 In this lesson, we are going to work on the production of the /n/ sound using the appropriate articulatory organs.
What Type of Sound Is /n/?
/n/ is a consonant sound in the English language.
How to Produce /n/?
As you can see in picture (b), this sound is also nasal because it is produced from the nose. In order to produce it, we must first put the tip of the tongue on the roof of the mouth. This will help block the air coming out of the mouth. Then, we start vibrating our vocal cords. So, this sound is voiced and you can see that the circle in the throat is red. Since the air cannot come out of the mouth, it travels up to the nose. Note that the uvula is participating in the production of this sound.
As you can see in the picture (a), the lips and the teeth are slightly parted. So, we cannot produce this sound if we keep our mouths closed.
For more clarification, we have provided you with a picture showing exactly where the tip of the tongue and the roof of the mouth make contact. In picture (c), the highlighted part indicates that you have to put the tip of your tongue there. Below, you can find letters that represent this sound:
/n/ Sound in 17 Most Common World Languages
As you can see in the table below, all of the common languages around the world have the /n/ sound. So, you can easily learn to produce it. Look:
| | | |
| --- | --- | --- |
| Mandarin | ✔ | 難 |
| Spanish | ✔ | cantar |
| Hindustani | ✔ | नया/نیا |
| Bengali | ✔ | নাক |
| Portuguese | ✔ | narina |
| Russian | ✔ | наш |
| Japanese | ✔ | 反対 |
| Vietnamese | ✔ | bạn đi |
| Marathi | ✔ | नख |
| Turkish | ✔ | neden |
| French | ✔ | connexion |
| German | ✔ | Lanze |
| Italian | ✔ | nano |
| Persian | ✔ | نون |
| Arabic (Standard) | ✔ | نور |
| Korean | ✔ | 나라 |
Download LanGeek app