The Letter N
And we meet again. In this lesson, we will learn about all the sounds of the letter N. It is the fourteenth letter of the English alphabet. Let's go.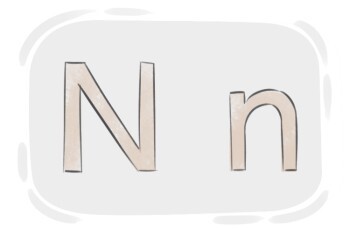 N is the fourteenth letter in the English alphabet. It is also a consonant.
Consonants are the letters that are produced by stopping the letter from flowing easily.
| | |
| --- | --- |
| Uppercase Form | N |
| Lowercase | n |
| Name | en (pronounced /ˈɛn/) |
| Main Sound | /n/ |
The Letter N: Sounds
The letter N only has two sounds:
Sound 1: /n/
'N' generally sounds /n/:
Sound 2: /∅/
'mn' sounds /m/, the letter 'n' is silent /∅/:
The Letter N: Multigraphs
Letter N can also appear in combinations with other letters (mainly consonants).
nk
'nk' after a vowel sounds /ŋ/:
kn
'kn' sounds /n/, in other words, 'k' is silent /∅/:
pn
'pn' sounds /n/, in other words, 'p' is silent /∅/:
ngh
'ngh' sounds /ŋ/; however, it also sounds /ŋɡ/:
gn
'gn' sounds /n/, in other words, 'g' is silent /∅/:
Tip
'gn' also sounds /nj/ in the word lasagna:
The Letter N: Uses
N is also used as:
An abbreviation of the word noun
An abbreviation of north; northern
Download LanGeek app