Why vs. How come
In this lesson, we've decided to discuss the differences between these two words. If you're still interested in expanding your knowledge, come on.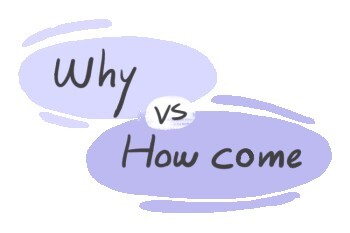 What Is Their Main Difference?
Both are words we use to question one's motifs for doing something. However, 'why' is more formal and can be used in both formal and informal speech and writing, whereas, 'how come' is mainly informal. Additionally, when we use 'how come', we may not necessarily require an answer. It can be merely done to show incredulity.
Differences
'Why' is mainly used in both formal and informal contexts to require the reason behind an event. It can also function as an exclamation to show surprise. Look at the examples below:
Why are you doing this to me?
Why, it seems that they've killed them all!
'How come' is mainly used in informal contexts in order to require the motifs behind a particular action. We can use it to indicate a sense of incredulity and frustration, too. Check out the following examples:
How come that bastard is in here?
How come Anna is still going to the protests?
Similarities
Both require the motifs, reasons, etc. behind an event. Look below:
How come you're still in this room?
Why were shouting in the middle of the night?
Are They Interchangeable?
These two can never be used interchangeably because 'how come' is more informal. Also, the sentence will be grammatically incorrect. Compare:
✓ How come Annabelle is talking to her dad again?
X Why Annabelle is talking to her dad again?
Download LanGeek app