Sang vs. Sung
This time, we're gonna analyze the differences and similarities between these two words. Well, wanna learn more? Why not join me?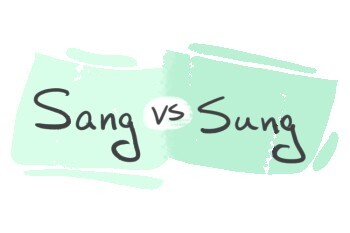 What Is Their Main Difference?
Differences
'Sang' is the past simple tense of the verb 'sing' and is used to describe an action that was completed in the past. 'Sung', on the other hand, is the past participle and is used to form the present perfect and past perfect tenses. Look at the following examples:
She walked onto the stage and sang.
The thought that I have sung in front of millions of people still startles me.
He had sung that song many times before the show.
Similarities
They are both past tenses of the verb 'sing'. Check out the examples below:
He started playing the piano and the girl sang along.
I think these two have sung a song together before.
Are They Interchangeable?
Since they refer to different tenses, they cannot be used interchangeably. Compare:
✓ I insisted that she sing this song, but she sang her favorite tune.
X I insisted that she sing this song, but she sung her favorite tune.
As you can see, this sentence is grammatically incorrect.
Download LanGeek app