From vs. Than
'From' and 'than' are prepositions with entirely different meanings, but they are confusing for some English learners. In this lesson, we will learn why!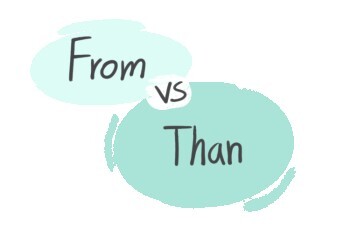 What Is Their Main Difference?
From
Some of the uses of the word 'from*' are:
to indicate where something started or someone was born. In order words, it is used to show the place of origin:
No one can get a reaction from him.
to show the time of the starting point of something:
The show is from 7 to 10.
The convention will be from July 21st.
Than
'Than' is mainly used as a conjunction. In this case, it helps comparing two thing, situations, etc. Have a look:
Louis is shorter than his sister.
I woke up much earlier than usual.
Why Are They Confusing?
In some languages, 'from' and 'than' are translated as one work. This is mainly because there is only one equivalent for these two words, therefore learners with languages like Persian who are learning English as their second language may confuse the two.
Download LanGeek app