Someone vs. Everyone
'Someone' and 'everyone' are both indefinite pronouns that refer to unspecified persons. Here, we will discuss their similarities and differences.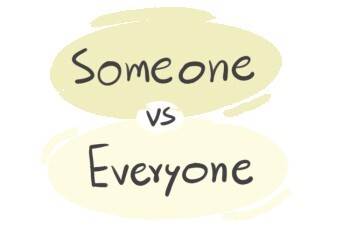 Difference
'Someone' is more formal than 'somebody'. It refers to a person who is not known or mentioned by name.
Someone's left their suitcase behind.
Someone wants to see you.
'Everyone' refers to every person and all the people in a group.
Everyone has a shot to win.
Similarity
Both 'everyone' and 'someone' take singular verbs.
Someone is bound to show up.
Everyone wants to feel loved.
'Someone': Uses
'Someone' can be used in:
Request questions
Offer questions
Someone was knocking on the door.
affirmative statements
Will someone explain what's happening, please?
request questions
Can you ask someone to help you?
offer questions
'Everyone': Uses
'Everyone' refers to all people related to a particular situation or a group. This particular group can be a circle of people, a classroom, an army, a team, etc.
Everyone enjoyed the concert.
Download LanGeek app