Must vs. Need
'Must' and 'need' are confused by learners as they express different levels of necessities. In this lesson, we will learn all about them.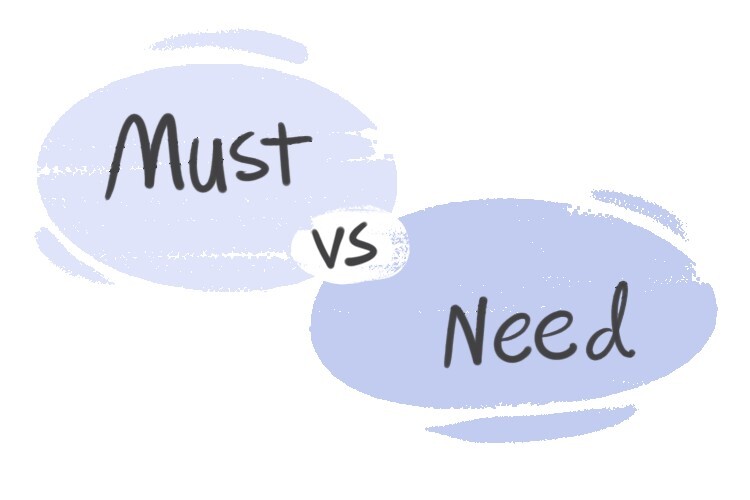 What Is Their Main Difference?
Modal Verb Must
'Must' is a modal verb (also known as
modals). Modals give additional information about the main verb of the sentence. 'Must' is used to express necessities, possibilities, and suggestions. Have a look:
He must have been rude to her.
She must add more safety devices to her house.
Semi-modal verb Need
'Need' is a semi-modal verb (also known as semi-modals). Semi-modals can act as modals or main verbs. They function similarly to modal verbs. 'Need' is used to express necessities. For example:
Talking about Necessities
We use 'must' and 'need' to talk about necessities. Necessities are actions and events that have to be fulfilled. However, there is a distinction that requires your attention:
'Must' expresses necessities that are required to be done and not doing them has consequences such as punishment and penalty. 'Must' is more formal than 'need.'
I must be at work before 9 a.m.
She must finish that article by tomorrow.
'Need' expresses a necessity that fulfilling it is on oneself and it is better to be done. Leaving it unfulfilled will not include punishment or penalty. In this context, the sentence often includes a term with a negative meaning such as nobody, no one, nothing, etc.
Not everyone need come to the meeting.
No one need do the dishes.
Negative Form
'Need' and 'must' can be used in negative forms.
Must
The negative form of 'must,' 'must not' is used to talk about prohibition. However, it is very uncommon and you may not hear it a lot.
You must not let go of the railing.
She must not eat that much.
Need
'Needn't' is used to show that there is no necessity to do something. This is a common usage of this semi-modal.
You needn't attend the meeting.
Interrogative Form
'Must' and 'need' can be used to ask questions.
To create questions with 'must' and 'need,' we invert the subject and 'must' or 'need':
Need they bring any food?
Need I leave earlier than usual?
Download LanGeek app for free