Like vs. Alike
I'm pretty sure you've heard about these two different words. Do you know their differences? What about their similarities? Well, let's go.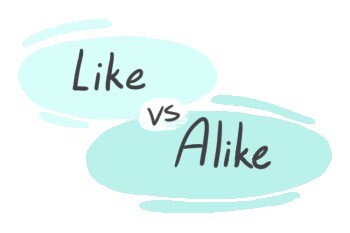 What Is Their Main Difference?
Differences
As mentioned above, 'like' is a preposition of manner and it indicates that two things are somehow similar or share some similar characteristics. It can come before a noun, a pronoun, or a noun clause. It mainly comes after linking verbs and the 'to be' verb. Look at the examples below:
My hair looks like my mom's, it seems.
How can anyone one feel like I do?
'Alike', on the other hand, is an adjective. Since it never comes before nouns, it is called an attributive adjective. It also comes after linking verbs. It indicates that two things or people are the same. Take a look at the examples below:
If women continue having plastic surgeries, all of them will look alike in the near future.
It is important that twins be treated alike.
Are They Interchangeable?
Although they both have similar meanings, they cannot be used interchangeably because the sentence will be grammatically incorrect. Compare:
✓ The girls become more like boys when they enter the system.
X The girls become more alike boys when they enter the system.
Download LanGeek app