By or Through
'By' and 'through' are commonly mistaken by learners. In this lesson, we will learn their difference and find ut when to use each of them.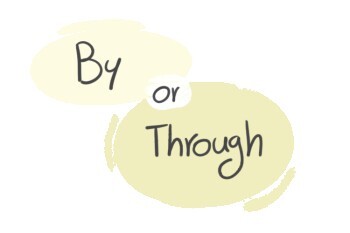 Which One Should Be Used?
By
As mentioned earlier, 'by' is used when we are talking about means, mechanism, or the agency of something. Have a look:
The room is heated by old heaters.
I never pay by credit card.
Through
We use 'through' when we are talking about systems and the process of something. Take a look at the following examples:
You will learn everything through practice.
They got into trouble through their own actions.
Are They Interchangeable?
These two prepositions are used interchangeably and that is perhaps the reason that learners confuse them. They are interchangeable in the favor of flow of speech and the user's personal definition of mechanism and system.
I'll send documents by mail.
I'll send documents through mail.
Download LanGeek app