Nobody vs. Somebody
What is the difference between the two indefinite pronouns of 'nobody' and 'somebody'? Where can we use each one of them. Let's find out.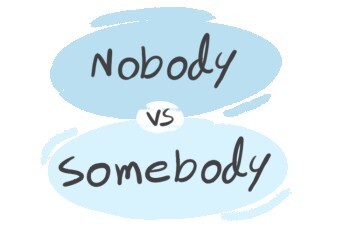 'Nobody' and 'Somebody' as Indefinite Pronouns
'Nobody': Pronoun
As an indefinite pronoun, 'nobody' means no person; 'no one'.
Nobody spoke for a solid one minute. It was awkward.
Somebody: Pronoun
However, 'somebody' as an indefinite pronoun means an unspecified person.
Somebody came up to me and said hi.
As opposed to the example below which has the opposite meaning to the first example:
Nobody came up to me to even ask me my name.
Nobody: Negative Maker
I opened the door and said hello but there was nobody in the room. (NOT ...but there wasn't nobody in the room.)
'Somebody': Negative or Positive Statement?
We can use 'somebody' in negative questions. But in statements, 'somebody' can only be used with positive verbs (in negative statements, you should use 'anybody').
I called somebody to come and pick me up.
I didn't called anybody to come and pick me up.
'Nobody' and 'Somebody' as Nouns
'Nobody': Noun
As a noun, 'nobody' means a person who is not important or famous, or influential.
Everyone at school, treated him like like a nobody.
'Somebody': Noun
Whereas, 'somebody' means a famous, renowned person, someone who is a celebrity.
He wants to be a somebody someday.
Download LanGeek app