No one
'No one' is an indefinite pronoun that refers to an absence of people. In this part, we will go through its uses and grammatical rules in English grammar.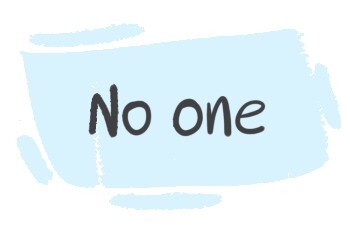 No one is an indefinite pronoun used to refer to the absence of people. In this lesson, we will discuss when and how to use it.
'No One' as an Indefinite Pronoun
Use
No one as an indefinite pronoun means 'no person.' Take a look at the following examples:
I double-checked every room. No one is here.
Our security is the best in the field. No one can break in.
Double Negation with 'No One'
Remember that no one is an indefinite pronoun with a negative meaning. So, in negative sentences, there is no need to add a negative verb. Take a look:
No one is in there.
As you see, the verb is positive.
However, in the African-American dialect, it is possible to use negative verbs with 'no one.' Look:
No-one or No One?
No one is the correct spelling. No-one with a hyphen is also commonly used as an alternative spelling to no one. For example:
No one is coming to pick us up.
No-one would notice such a tiny detail.
Tip
No one is there. Are they?
I know no one who takes their words.
I know no one in here, so I can't talk to them.
Download LanGeek app