Most vs. Many
Since 'many' and 'most' are confused a lot by non-native speakers, let us take a look at them.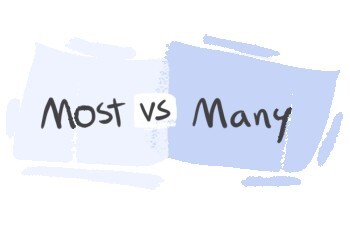 What Are Their Main Differences?
What Kinds of Nouns Are Used after Them?
Did you know many languages?
They didn't have many relatives.
I have many cards. You can exchange them with your marbles.
is followed by uncountable nouns or plural countable nouns.
The most water of the earth is salt water.
Most gifts were dolls and chocolates.
She drank the most wine last night.
What about Using Pronouns and Noun Phrases?
Most of his worries dedicated to his son's future.
Many of us would like to be on vacation now, but instead we are all at work.
He himself paid most of the expenses of his sister's wedding.
Many of his debts remained unpaid after his death.
Download LanGeek app