More vs. Many
Native speakers use more and many correctly with no trouble, but they can be difficult for non-native speakers.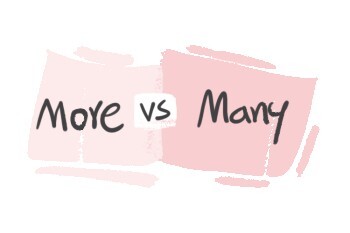 What Are Their Main Differences?
Using Countable or Uncountable Nouns
She is more than two hours late.
We need more money to buy the house.
More fuel is used all over the world every year.
is followed by plural countable nouns.
We had the chance to visit many cancer patients, before evening.
Many animals were dead because of the global warning.
Carla knows many things about our relationship.
What They Mean
refers to a large 'number'.
Many girls were in love with Martin Sheen back then.
refers to a larger quantity. In other words, 'more' is the comparative form of 'many'.
They requested for more salaries than they used to get.
'More of' and 'Many of'
Many of his fans are young girls.
We have lost so many people in the airplane crash, many of them were doctors.
Many of her family members were dead because of the Corona virus.
Maybe next year more of us will be able to go on that trip.
Download LanGeek app