Whose vs. Who's
Do you find yourself confused about when to use 'whose' and when to use 'who's?' In this lesson, you will learn about their uses and differences.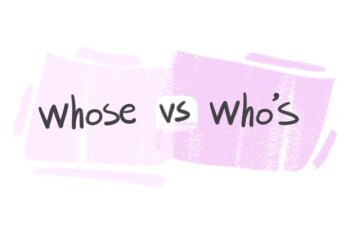 What Is Their Main Difference?
Whose
As mentioned earlier, whose is the possessive pronoun of who. It is used to acquire information about possession and belonging. Take a look at the following examples:
Whose jacket is this?
Here, we are asking for information about the possession of an item.
Who's jacket is this?
'Who's' is incorrect in this case. We will now cover why.
Who's
Who's is the contracted form of the pronoun 'who.' To create this form, we stick 'who' to 'is' or 'has' and an apostrophe replaces the deleted letters. We use it to acquire information about 'what or which person or persons.' Have a look:
Who's she talking to? = Who is she talking to?
Here, we are acquiring information about 'what person' and you can also see the contraction in action.
Whose is she talking to?
We cannot use 'whose' in this context as we are not asking about possession.
Similarities
It is my phone. → Whose phone is it?
Who is he looking for? → Who's he looking for?
Download LanGeek app