Whom vs. Them
'Whom' and 'them' are words in the English language that may confuse learners. In this lesson, we will learn their uses and differences.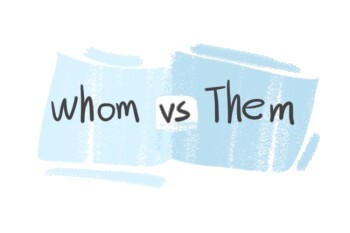 What Is Their Main Difference?
Whom
'Whom' is an interrogative pronoun. When the purpose is to acquire information about what person or persons.'Whom' can be both singular and plural.
Whom did she ask for help?
Them
Them is a third-person plural pronoun. It is commonly known as the object pronoun of 'they.' 'Them' is used to refer to the object of a clause. It is used to visualize and refer to a group of two or more people that reflect the action of the verb.
We have tried to speak to them.
She is saying what is best for them.
Formality
'Whom' is commonly used in formal writings and is mostly seen in books and articles while 'them' can be used anywhere without any special tone. However, if there is a formal case in which you have to choose between 'whom' and 'them', you have to go for 'whom'.
Similarities
There is a similarity between the two words. The following examples will help illustrate them:
There are 20 people that only 7 of whom are experts.
There are 20 people that only 7 of them are experts.
Both sentences are grammatically correct and they exhibit the same meaning. Both words show 'how many people' are to be excluded from the first group.
Download LanGeek app