More vs. Most
Generally, 'more' and 'most' are used before adjectives to clarify their amount or degree. Let us start learning all about them here.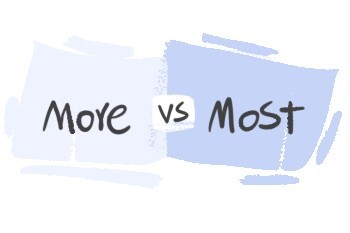 What Are Their Main Differences?
To Make Comparatives or Superlatives
She was more intelligent than her sister. → adjective
Can't it be done more quickly? → adverb
is used before some adjectives and adverbs to make them superlative adjectives or superlative adverbs.
She is the most beautiful woman I have ever seen. → adjective
We shall find out which system works most effectively. → adverb
The Most vs. The More
'The most' is used when you are comparing one person or thing with all others. Most is the superlative form of many and much.
This is the most interesting job. → adjective
'The more' is used to say that if an amount of something increases, another change happens as a result.
The more I earn, the more I spend.
'Most Of' and 'More Of'
can be used before nouns to refer to a larger amount or degree of it.
More people are protesting for their rights. → determiner
More animals are being killed these days. → determiner
is used before a noun phrase with the same meaning.
More of his manners had became unbearable recently.
More of our problems are being solved since we met the new therapist.
can be used before nouns to refer to the largest amount or degree of it.
Ask Carol! She has the most information on this subject. → determiner
She is the superior secretory of this month. She got most calls. → determiner
I have lost most of my friends.
She spends most of her time with Jimmy.
Download LanGeek app