None vs. No
As it is obvious none and no have some mutual letters which make new learners confused.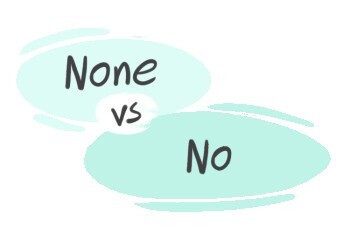 What Are Their Main Differences?
Grammatical Functions
is mostly used as a pronoun. In other words, it is the pronoun form of 'no'.
None of the options in the menu caught her eyes. → pronoun
"Are you American?" "No, I'm Turkish." → adverb
There's no excuse for being late for the exam. → determiner
The answer to your proposal is a big no. Sorry. → noun
'None' and 'No' as Synonyms
'No' as a determiner and 'none' as a pronoun have the same meanings. Both mean 'not any' or 'not one'.
There is none to tell you. You won't believe me.
She had no reason for her behavior.
'No.' Also 'no.'
The written abbreviation of 'number' is (No. or no.).
The written abbreviation of 'numbers' is (Nos. or nos.).
We live on Elm street no. 3.
Download LanGeek app