Such vs. These or Those
The words "such" and "these" are often confused with each other due to their nature of supporting a sentence where similar situations are being mentioned.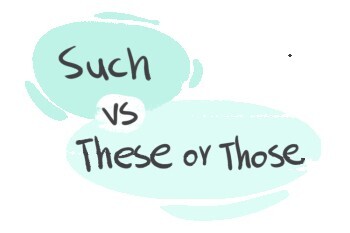 What Are Their Main Differences?
At first, you are supposed to know the differences between 'these' and 'those'. As you might know, they refer to things at different distances. 'These' is used for things close to you, and 'those' is used for things further.
Usage in a Sentence
refers to multiple situations or objects that 'have something in common'.
refer to events or objects that are similar to a main subject.
They released such great movies that I am going to watch them the whole summer.
The chickens need these corns to grow.
Those plants are going to be frozen in such a snowy weather.
Using Countable or Uncountable Nouns
are followed by plural countable nouns.
Such promises have no values.
These sticks are used to make fire.
Those cans of cat food are expired.
Grammatical Functions
Such, these and those are used as:
These are our plans for the summer. → pronoun
Can I help you with those? → pronoun
Those universities are the best in London. → determiner
I didn't see these white blankets under the bed . → determiner
They are such racist people who are protesting against black people. → determiner
We had many problems in the company, having financial issues was such. → pronoun
Download LanGeek app