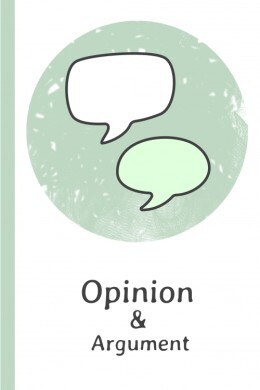 Words Related to Opinion and Argument - Having an Opinion or Idea 1
39 Words
Here you will learn some English words related to having an opinion or idea, such as "dogmatic", "consensus", and "belief".
someone who believes it is impossible to know whether God exists or not
2
(of a person) believing that the existence of God or supernatural is unknown and unknowable
3
a way of doing something or dealing with a problem
4
to be in a minority of one
phrase
to have a particular point of view that is rare and unusual among others
5
something that we think is true or real
6
to hold an opinion that something is the case
7
the way a person thinks or feels about something or someone, often affecting their behavior and decisions
8
to have the same ideas or opinions as those of someone else's
10
to be of the opinion that
phrase
to believe something to be the case
11
to refuse to change one's opinions, behaviors, habits, etc.
12
tending to be for or against someone or something in an unfair way
13
to be vastly different from each other in terms of opinions, attitude, etc.
14
extremely self-assertive in a way that annoys others
15
someone whose opinion changes in accordance with the situation
16
one's ideas, beliefs, and opinions about a specific subject
17
the quality of always acting or being the same way, or having the same opinions or standards
19
following the same course of action or behavior over time
20
a belief or opinion that is very strong
21
a set of ideas, feelings, or opinions shared among a group of individuals
22
having clear and definite opinions
24
(of a person) tending to refrain from sharing one's ideas with others or to hide their true feelings and intentions in a mysterious way
25
having a strong set of beliefs and opinions that are unlikely to change
26
having a specific feeling, opinion, or attitude about someone or something
27
a person who pretends to disagree with an opinion or idea just to promote a discussion concerning a particular subject
28
a belief or a belief system held by an authority who proclaims it to be undeniably true and expects immediate acceptance
29
being convinced that everything one believes in is true and others are wrong
30
someone who does not provide a definite answer for a question, particularly when being asked in a poll
31
the state in which one holds two opposing ideas at the same time
32
having firm, unchanging opinions, beliefs, or ideas
33
very eager to persuade people to accept one's views or opinions
34
a set of words or actions meant to make people accept one's strong views or opinions
35
a supporter of a theory, belief, idea, etc. who tries to persuade others that it is true or good in order to gain their support
36
one who makes an abrupt change of opinion, especially a politician
37
someone who prioritizes their own opinions, ideas, and beliefs over other people's, especially about religion or politics
38
(of people or opinions) strong and demanding in manner
39
Download LanGeek app