‌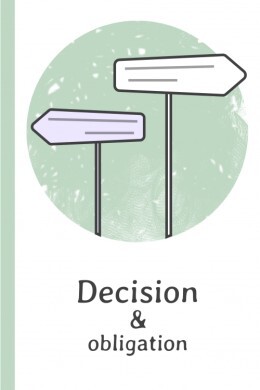 Words Related to Decision, Suggestion, and Obligation - Making a Decision 3
25 Words
Here you will learn some English words related to making a decision, such as "inflexible", "hustle", and "finding".
a legal decision or statement made by an Islamic leader
2
(of a law court) to make an official decision
3
to declare someone guilty or make a decision against someone in a court case
4
to declare someone right or innocent in a court of law case
5
a judgment made by a judge or jury in a court of law
6
to compel someone to accelerate the process of decision-making
7
the idea that human beings have the agency to decide independently without being controlled by any outside influences
8
to [give|move|budge] an inch
phrase
(always negative) ‌to refuse to make even a slightest change to one's position, decision, etc.
9
‌to be presented to someone or something for discussion, decision, or judgment
10
‌to formally announce something such as a decision or judgment
11
to think about something before making a decision
12
to hesitate in making a decision or saying something
13
a choice made in a situation in which no other options were available
14
to convince or make someone to do something
15
having or showing common sense, and the capability of expressing an idea in a convincing way
16
not producing a clear result or decision
17
(of a person) having difficulty making choices or decisions, often due to fear, lack of confidence, or overthinking
18
reluctant to compromise or change one's attitude, belief, plan, etc.
19
in agreement; in support of something or someone
20
in a way that gives someone an advantage over something or someone
21
(as|) broad as it is long
phrase
used for saying that choosing out of the two possible options is not really going to make a difference as the result will be the same either way
22
it [is] six of one (and|) half a dozen of the other
sentence
used to say that both options or situations are equal and that none is better or worse than the other
23
used to express indifference toward the options or choices that are offered
24
(in the US) an official statement or decision that has been approved by both houses of the US Congress
25
download langeek app for free