‌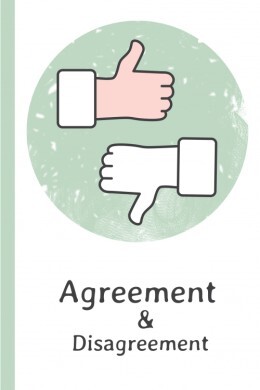 Words Related to Agreement and Disagreement - Agreement 4
47 words
Here you will learn some English words related to agreement, such as "positive", "quite", and "ratify".
a formal agreement between parties, particularly to help one another
1
one of the sides in a legal agreement or dispute
2
to put an end to an argument with someone in order to make peace with them
3
an offering made to become friends with someone after upsetting them
4
a response that shows one has accepted that someone else's argument or opinion is valid
5
in a way that shows approval or agreement
7
to [pour] oil on troubled waters
phrase
to say things in order to settle a dispute or disagreement
8
used to express complete agreement
9
an agreement between a couple before marriage in which they agree how much of each other's property each will receive upon divorce or death
10
the original form of an agreement, particularly a treaty between states, etc.; an addition to a treaty or agreement
11
a condition that needs accepting before making an agreement
12
used to express agreement
14
the act of validating an agreement by signing it or voting for it
15
to validate an agreement by signing it or voting for it
16
to change one's opinions, beliefs, etc. to be like those of another person or group
17
the action of changing one's opinions, beliefs, etc. to be like those of another person or group
18
(of disagreements or differences) able to be settled
19
to become or make a person become friendly again with another after ending a disagreement or dispute
20
the act of becoming friendly with someone once more after ending a disagreement
21
the act of resolving a problem or disagreement
22
(of a meeting, committee, etc.) to come to a decision through a formal vote
23
used to show one's agreement
24
used to show one's strong support or approval
25
to bring a dispute or disagreement to an end
27
to shake hands as an act of agreement
29
shoulder to shoulder
adverb
together working toward a shared aim
30
to support a person or group against someone else in a fight or argument
31
a person, organization, or country that has signed a formal agreement
33
to sink one's differences
phrase
to put aside disagreements
36
fully in agreement; approved of by all
37
the support given by the members of a group to each other because of sharing the same opinions, feelings, goals, etc.
38
used to show agreement with a suggestion
39
to stand up and be counted
phrase
to publicly express one's agreement or support for someone or something
40
to strike a bargain
phrase
to make an agreement that involves both parties doing something for one another
41
the state or act of accepting defeat and not having a choice but to obey the person in the position of power
42
to support or agree with an idea, opinion, etc.
43
used as a positive response to something
44
displaying support or approval
45
in a manner that displays support or approval
46
to support and approve of something or someone
47
Download LanGeek app for free